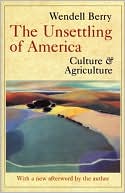 The American writer and teacher Wendell Berry was born on this day in 1934. Berry's novels and poems often reflect the recurring themes of his more famous nonfiction—family, environment, farming, and, as the title of one essay puts it, "The Agrarian Standard":
We agrarians are involved in a hard, long, momentous contest, in which we are so far, and by a considerable margin, the losers. What we have undertaken to defend is the complex accomplishment of knowledge, cultural memory, skill, self-mastery, good sense, and fundamental decency—the high and indispensable art—for which we probably can find no better name than "good farming."
At age seventy-seven, Berry continues his vigorous campaign to give Another Turn of the Crank to The Gift of Good Land and The Art of the Commonplace—these being titles for three of his essay collections—and his attempt to unsettle:
If there has been any law that has been consistently operative in American history, it is that the members of any established people or group or community sooner or later become "redskins"—that is, they become the designated victims of an utterly ruthless, officially sanctioned and subsidized exploitation.… Today, the most numerous heirs of the farmers of Lexington and Concord are the little groups scattered all over the country whose names begin with "Save"; Save Our Land, Save the Valley, Save Our Mountains, Save Our Streams, Save Our Farmland. As so often before, these are designated victims—people without official sanction, often without official friends, who are struggling to preserve their places, their values, and their lives as they know them and prefer to live them against the agencies of their own government which are using their own tax moneys against them. (Unsettling America,1977)
---
Daybook is contributed by Steve King, who teaches in the English Department of Memorial University in St. John's, Newfoundland. His literary daybook began as a radio series syndicated nationally in Canada. He can be found online at todayinliterature.com.