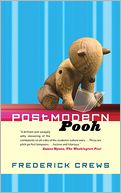 Christopher Robin Milne was born on this day in 1920, an only child to A. A. Milne. For his first birthday, Christopher received "Edward," the stuffed toy that would become literature's most famous teddy bear and, says Christopher, the focus of family dysfunction.

Christopher Milne wrote two books about growing up and growing out from under the shadow of the fictional Christopher Robin. Enchanted Places, written after both parents had died, has partly the tone of setting the record straight, partly that of settling the score. Each day of writing, Milne said, was "like a session on the analyst's couch." Amid the general resentment at parental neglect and exploitation, Milne singles out as being particularly rankling his father's first, famous Christopher Robin poem — "Vespers":
Little Boy kneels at the foot of the bed,
Droops on the little hands little gold head.
Hush! Hush! Whisper who dares!
Christopher Robin is saying his prayers….
Apart from his "toe-curling, fist-clenching, lip-biting embarrassment" over the poem's sentimentality, Christopher notes that it contains a double lie and a double bind that dominated his adolescence. The idealized fictional child not only made the real one a target of schoolboy taunts but denied in real life any benefit that might have come from his father actually gushing over, or just sharing, his childhood. Christopher's feeling, as both child and adult, was that he was but "a part-time hobby" to both his parents and that, had he suddenly disappeared, "I would certainly not have missed my father." He rarely saw his mother or father once he married and moved to Devon to run a bookshop, his mother not once in her fifteen years of widowhood.

Winnie-the-Pooh continues to hold down a spot on the lists of bestselling children's books, and the Pooh industry continues apace. In his Introduction to Postmodern Pooh, sequel to The Pooh Perplex, Frederick Crews notes the recent appearance of Pooh's Little Fitness Book and Eeyore's Gloomy Little Instruction Book, The Tao of Pooh and The Te of Piglet, Pooh and the Philosophers and Pooh and the Psychologist…. Crews's books offer a satiric lifeline to "college students adrift on the choppy, horizonless seas of literary interpretation." One of the parodic essays in the sequel book takes the troubled Milne family as focus. Titled "The Courage to Squeal," the essay is written by one "Dolores Malatesta," who wishes she could give Christopher the psycho-surgery she gave herself — "a parentectomy, replacing my family of origin with a family of choice."
---
Daybook is contributed by Steve King, who teaches in the English Department of Memorial University in St. John's, Newfoundland. His literary daybook began as a radio series syndicated nationally in Canada. He can be found online at todayinliterature.com.