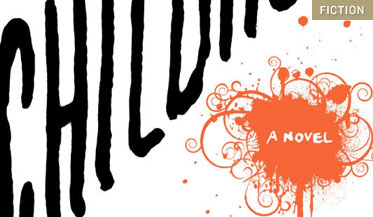 Remember Ponyboy Curtis? The 14-year-old smart-boy greaser, dreamer, and lover of sunsets was the hero of S. E. Hinton's nearly perfect novel about coming-of-age in late-'60s Oklahoma, The Outsiders, which, thanks to Francis Ford Coppola, survived translation to the screen and became to teenagers growing up in the '80s the generational equivalent of Rebel Without a Cause.

One of those teenagers was presumably Charles Bock, now 38, who resurrects Ponyboy (or at least his namesake) as one of the many characters that swirling through his debut novel, Beautiful Children, set in Bock's hometown of Las Vegas. Bock's outsiders, like Hinton's, live in that liminal space populated almost entirely by the young, who survive according to a complex moral and ethical code nearly invisible to adults. But while Hinton, who wrote and published her novel as a teenager, left Ponyboy back at the same movie theater where she first found him, thinking about Paul Newman and a ride home, Bock's novel sees the same world through the eyes of an adult writer. As such, he begins with the parents and ends with a child.

The parents, Lincoln and Lorraine Ewing (given the great proliferation of pop culture references, one is tempted to hear the theme song to Dallas when they appear), open the novel with the last moving image they have of their 12-year-old son, Newell: a videotape showing a "slouching, unexpressive child" who appears to be uncomfortable at his Little League pizza party. Newell, we discover, has gone missing. After leaving for a Saturday night with his slightly older friend, Kenny, whom he met at a comic book store, he misses his ten o' clock curfew and is never seen again.

The rest of the novel reconstructs the last day of Newell's known existence, accumulating a cast of characters whose stories converge on the night that he disappears. These characters represent such familiar archetypes — the loving family, the 20-something comic book geek, the stripper with the heart of gold, street kids of every tough and tragic persuasion — that one does not realize the cumulative wonder of the novel until their stories begin to overlap and refract one another. But once it does, the overall effect is frankly astonishing, providing both a timeless portrait of adolescence and an exhaustively specific version of a city best known as a destination where one escapes life rather than lives it.

Bock takes us to the part of Vegas where "frequent-player slot clubs provide senior citizens with rebates at area grocery stores." His own parents owned a pawn shop and Kenny's aunt works in one, sandwiched "between the beef jerky store and the place where they sold Nazi memorabilia." Riding around the city in an old ice cream truck are "a bunch of teenagers slinging shit, would-be immortals in conversations destined to be carved on the sides of mountains." We meet a group of runaway teens, including a boy who calls himself Lestat (and who once went on a pilgramage to Anne Rice's house in New Orleans), and his street partner, Daphney, a hugely pregnant girl who slugs cough syrup and brags, "I've been streeting so long, I've got my own milk carton." A young vegan wiccan anarchist known only as "the girl with the shaved head" goes on her first meth trip, and, heartbreakingly, is so close to her own childhood that she is "pumped with childhood goodwill for all the childhood friends whose names she no longer remembered" and hallucinates freckled girls in pigtails and little boys chasing lizards. In Bock's telling, Hinton's Ponyboy, now 20, delivers porn for a man he calls Jabba the Hut and exploits his pragmatic stripper girlfriend, Cheri (named after Cherry Valance, the wealthy girl who befriends Ponyboy in the Hinton novel).

What all of these characters have in common is that they live in a world in which parents are absent or irrelevant. Except for, of course, Newell, who lives in a "moderately prestigious neighborhood" with parents who have built their lives around him. Lincoln was once a handsome athlete, recruited for minor league baseball, who dropped out to become a successful executive with a desk job at a Vegas casino; Lorraine "came heartbreakingly close to making the dance squad for a professional basketball team" and became a showgirl, then a full-time mother instead. But the closer we get to Newell, the more mysterious his disappearance becomes. In this world of lost children, he is the only one who seems to have what everyone else wants and needs. But Bock leaves open the possibility that he deliberately gave it up.

We follow Lincoln and Lorraine up to the year anniversary of their son's disappearance, but throughout the story, Bock relies on the classic technique used in 19th-century novels to telescope forward into his character's uncertain futures. The most beautiful by far is an extended flash-forward sequence in which Kenny imagines half a dozen different adults he may be when he looks back on the night Newell disappeared. At 16, Kenny doesn't know enough about himself to project if he will be discussing this night with a therapist paid for by his cushy corporate job or with a trick picked up the night before, or if his lover will be a man or a woman. But he is certain that he, like everyone else in the novel, will ruminate on this experience throughout his life, and so are we.

Bock reportedly spent 11 years writing this novel and went through at least four drafts. There are still a few seams that show. He often reaches for the obvious metaphor (fat women are stuffed into their clothes "like a sausage casing") and some of his description, in isolation, feels superficially journalistic. Taken alone, his teens might have seemed to flatter themselves into naively thinking they are the first of their kind; his adults might have come across as sentimental and maudlin.

But nothing in this novel is meant to be taken in isolation. Lestat seems to speak for all the beautiful children when he talks about runaway life: "you lived beneath the crushing weight and breadth of a freedom where there was nowhere specific to go, no one to turn to or rely on; a freedom without restraint or responsibility that was both empowered and burdened by the realization that you did not matter." And Lincoln, the grieving father, reflects on "the curse of the early to mid-thirties" when one is "still young enough to remember all the emotions and joys associated with teen delinquency, yet old enough now to be a little worried about the bumping bass in the car next to you." Bock has captured both just about perfectly and has delivered a novel that splendidly exceeds the sum of its parts.