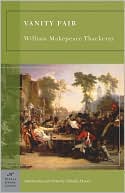 William Makepeace Thackeray's Vanity Fair began serialization on this day in 1847. Readers of this first Punch installment met Becky Sharp as she graduated from Miss Pinkerton's Academy for Young Ladies, slamming the door behind her. By Chapter XLVIII, Becky's plots and perfidies have gained her entry to the highest social levels, the king himself granting approval and absolution:
If she did not wish to lead a virtuous life, at least she desired to enjoy a character for virtue, and we know that no lady in the genteel world can possess this desideratum, until she has put on a train and feathers and has been presented to her Sovereign at Court. From that august interview they come out stamped as honest women. The Lord Chamberlain gives them a certificate of virtue. And as dubious goods or letters are passed through an oven at quarantine, sprinkled with aromatic vinegar, and then pronounced clean, many a lady, whose reputation would be doubtful otherwise and liable to give infection, passes through the wholesome ordeal of the Royal presence and issues from it free from all taint.
Thackeray makes clear that his "Becky Puppet" is meant to represent the generation of climbers and court gazers who danced through Regency England and the Napoleonic Wars. Becky would have felt at home in Vienna 1814: How the Conquerors of Napoleon Made Love, War, and Peace at the Congress of Vienna (2008), where David King compresses the social climbing into a crucial year in European history:
Kings, queens, princes and diplomats would all pour into the city of Vienna in the autumn of 1814 for the highly anticipated peace conference. More than 200 states and princely houses would send delegates to settle the many unresolved issues. How were they going to make restitutions to the millions who had lost family members or suffered the horrors of Napoleonic domination? The Vienna Congress offered a chance to correct the wrongs of the past and, many hoped, create the "best of all possible worlds." Reasoned opinion predicted that all the negotiations would be wrapped up in three or four weeks. Even the most seasoned diplomats expected no more than six. But the delegates, thrilled by the prospects of a lasting peace, indulged in unrestrained celebrations. The Vienna peace conference soon degenerated into a glittering vanity fair: masked balls, medieval-style jousts, and grand formal banquets — a "sparkling chaos" that would light up the banks of the Danube.
The lights went out six months into the fun, when news arrived that Napoleon, escaped from Elba, was back on the march.
---
Daybook is contributed by Steve King, who teaches in the English Department of Memorial University in St. John's, Newfoundland. His literary daybook began as a radio series syndicated nationally in Canada. He can be found online at todayinliterature.com.