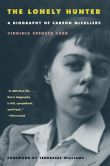 Carson McCullers was born on this day in 1917. McCullers took years of music lessons during her childhood, becoming good enough to be accepted at the Juilliard School. But at age fifteen she received a typewriter from her father, and soon her enthusiasm was for writing rather than the piano. Her first story, "Wunderkind," published at the age of nineteen, tells of a schoolgirl so exhausted by her music study and her teacher's expectations that all attempts to sleep end in fitful half dreams:
Wunderkind — Wunderkind — Wunderkind. The syllables would come out rolling in the deep German way, roar against her ears and then fall to a murmur…. Phrases of music seesawing crazily. Notes she had been practicing falling over each other like a handful of marbles dropped downstairs — Bach, Debussy, Prokofiev, Brahms — timed grotesquely to the far off throb of her tired body….
As described in "How I Began to Write," writing became a replacement obsession. McCullers, her brother, and her sister would frequently stage theatrical extravaganzas in the family sitting room — until her plays stretched the young cast's abilities beyond the breaking point:
The sitting-room shows ended when first I discovered Eugene O'Neill. It was the summer when I found his books down in the library and put his picture on the mantelpiece in the back sitting-room. By autumn I was writing a three-acter about revenge and incest — the curtain rose on a graveyard and, after scenes of assorted misery, fell on a catafalque. The cast consisted of a blind man, several idiots and a mean old woman of one hundred years. The play was impractical for performance under the old conditions…. I gave what I called a "reading" to my patient parents and a visiting aunt.
Unconcerned that her reach might be exceeding her grasp, the fifteen-year-old playwright penned a new one-woman show — a verse play titled The Fire of Life, in which Jesus and Nietzsche passionately debate their worldviews.

Age fifteen, the year McCullers got her typewriter, was also the year she got rheumatic fever; undiagnosed for thirty years, the illness led to a debilitating series of strokes and early death.
---
Daybook is contributed by Steve King, who teaches in the English Department of Memorial University in St. John's, Newfoundland. His literary daybook began as a radio series syndicated nationally in Canada. He can be found online at todayinliterature.com.