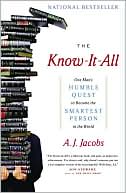 Encyclopaedia Britannica, the oldest English-language encyclopedia still produced (though now only electronically), was first published on this day in 1768. Of the Britannica's fifteen editions, the Eleventh, published 1910-11, is regarded as a work of lasting literary appeal — no longer the self-described "high tide mark of human knowledge" but a collective window on a world poised for the modern era, written in a distinctive voice and style. The editors of the Eleventh Britannica gave many of the day's eminent scholars the express mandate to reach a wider audience, and something of a free hand in doing so. "One leaps from one subject to another," wrote Sir Kenneth Clark of the Eleventh Edition, "fascinated as much by the play of mind and the idiosyncrasies of their authors as by the facts and dates. It must be the last encyclopedia in the tradition of Diderot which assumes that information can be made memorable only when it is slightly colored by prejudice."

A. J. Jacobs, author of The Know-It-All (2004), says that, "compared to more modern editions, reading the Eleventh is like reading a Faulkner novel instead of an instruction manual." But Jacobs read the more current 2002 edition, because he was on a "Humble Quest to Become the Smartest Person in the World." Or just stop his "long, slow, slide into dumbness":
My career choices are partly to blame for my intellectual swan dive. After college, I got a job as a writer at Entertainment Weekly, a magazine devoted to the minutiae of movies, TV and music. I crammed my cranium with pop culture jetsam. I learned the names of N' Sync's singers, as well as their choreographer. I could tell you which stars have toupees, which have fake breasts, and which have both. But this meant anything profound got pushed out. I could talk confidently about the donut-eating Homer, but I'd forgotten all about the blind guy who wrote long poems. I stopped reading anything except for tabloid gossip columns and books with pictures of attractive celebrities on the cover. In my library, I actually have a well-thumbed copy of Marilu Henner's autobiography. Things improved slightly when I got a job as an editor at Esquire magazine (I now know that syrah and Shiraz are the same wine grape), but still, my current knowledge base is pathetically patchy, filled with gaps the size of Marlon Brando — whose autobiography I've read, by the way.
---
Daybook is contributed by Steve King, who teaches in the English Department of Memorial University in St. John's, Newfoundland. His literary daybook began as a radio series syndicated nationally in Canada. He can be found online at todayinliterature.com.