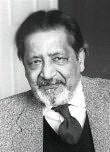 V. S. Naipaul was born on this day in 1932. In Reading & Writing (2000), Naipaul recalls that by age eleven he wished to be a writer and that this wish soon turned to "a settled ambition," though for a long time it was all "a kind of sham." He was not especially good at writing or keen to tell stories, he "wasn't much of a reader," and his preferred source for fantasy was Hollywood. Though on the scholarship track at his colonial school in Trinidad, instead of having an inspirational English teacher he had Headmaster Worm:
He was an elderly mulatto, short and stout, correct in glasses and a suit, and quite a flogger when he roused himself, taking short, stressed breaths while he flogged, as though he were the sufferer. Sometimes, perhaps just to get away from the noisy little school building, where windows and doors were always open and classes were separated only by half-partitions, he would take us out to the dusty yard to the shade of the saman tree. His chair would be taken out for him, and he sat below the saman as he sat at his big desk in the classroom. We stood around him and tried to be still. He looked down at the little Collins Classic, oddly like a prayer book in his thick hands, and read Jules Verne like a man saying prayers.
Naipaul did have his father, however, a self-educated journalist who always had a handful of books on the go, and was always calling his sons over to listen to this or that passage from Shakespeare, Dickens, or O. Henry. Though perhaps not Jane Austen. The most recent demonstration of Naipaul's talent for controversy is a June 2011 magazine interview in which he disparaged Austen for "her sentimental ambitions, her sentimental sense of the world." The comment came in response to the interviewer's asking Naipaul if he thought any woman writer his match:
I don't think so.… I read a piece of writing and within a paragraph or two I know whether it is by a woman or not. I think [it is] unequal to me.… My publisher, who was so good as a taster and editor, when she became a writer, lo and behold, it was all this feminine tosh. I don't mean this in any unkind way.
---
Daybook is contributed by Steve King, who teaches in the English Department of Memorial University in St. John's, Newfoundland. His literary daybook began as a radio series syndicated nationally in Canada. He can be found online at todayinliterature.com.