Five foamy reads.
---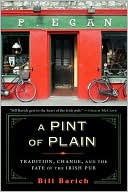 Pint of Plain: Tradition, Change, and the Fate of the Irish Pub
By Bill Barich
Barich, a Dublin resident who authored the classic horse-racing memoir Laughter in the Hills, writes about how genuine Irish pubs in the villages of Ireland are disappearing while "Irish bars" are sprouting up around the world. Barich gives an excellent view into how globalization is affecting one particular marketplace.
---
By Tom Robbins
Parents no longer have to simply tell their kids that "Beer is for grownups" without explaining. Loopy bestselling author Tom Robbins helps them out with this book written for kids of all ages that explains the mystery elixir. In it, a Beer Fairy takes a kindergartner for a wondrously informative ride.
---
Edited By Tim Hampson and Sam Calagione
This image-packed reference put together by Hampson, the Chairman of the British Guild of Beer Writers, gathers 19 specialists who discuss brews from every continent. While noting the important breweries and including five "Brewery Trails" across America and Europe, the book gives a fascinating sense of different beer cultures worldwide.
---
Tasting Beer: An Insiders Guide to the World's Greatest Drink
By Randy Mosher
Anybody can swallow a brewski but not too many have an academic understanding of just what they've put into their bellies. Mosher has the lowdown on how the brewing process works, what characteristics differentiate beer styles, and what kinds of smart-sounding things to say when your beer smells extra good.
---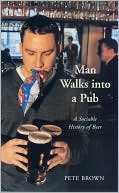 Man Walks into a Pub: A Sociable History of Beer
By Pete Brown
Pete Brown, Britain's 2009 Beer Writer of the Year, takes readers on the highly engaging, amusing, and rollicking journey of the social history of worldwide beer consumption from the first brews of the Egyptians through the effect of two World Wars on the brewing industry up to the massive beer industry of today.