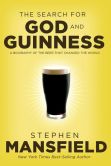 The Guinness Brewery began on this day in 1759 when Arthur Guinness signed a 9,000-year lease on a small production facility at St. James's Gate, Dublin. The lease was both an entrepreneurial and a religious leap of faith, explains Stephen Mansfield in The Search for God and Guinness. Mansfield's "Biography of the Beer that Changed the World" begins with the summary of an encounter outside the current, 164-acre St. James's Gate brewery, the author there to do research, a group of American teenagers there out of thirst and curiosity:
I told them how the Guinnesses were people of faith and how this faith moved them to do good in society. I recounted the deed of Arthur Guinness — the righteous use of wealth and the Sunday schools and the antidueling association and his stand against extravagant living. I spoke also of the later generations and the high wages they paid their workers and the restoration of Ireland's historic landmarks and the huge gifts to build housing for the poor.… I told them how a Guinness doctor surveyed the desperate needs of his day and asked the Guinness board to let him help. And I told them how one of the Guinness heirs took his new bride and moved into the slums to call attention to the blight of poverty in his land. And I told them how nothing they have read about Microsoft or Google compares with the way an Irish beer company cared for people when their grandparents were still young.
---
Daybook is contributed by Steve King, who teaches in the English Department of Memorial University in St. John's, Newfoundland. His literary daybook began as a radio series syndicated nationally in Canada. He can be found online at todayinliterature.com.