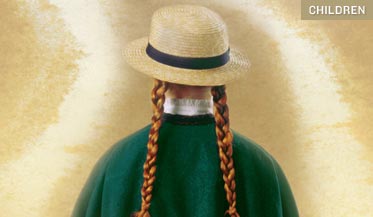 Reviewed by Lisa Von Drasek

I approached Before Green Gables with suspicion. Who would have the nerve to create a prequel to the classic Anne of Green Gables? There are readers — those of us who found a "kindred spirit" in its freckled-faced, redheaded orphan heroine — for whom the original is sacred territory. In Lucy Maud Montgomery's telling, "a poor orphan girl" in the Canadian Maritime provinces of the 1890s is mistakenly delivered into the care of Marilla and Matthew Cuthbert, an aging brother and sister living on a farm in Prince Edward Island, Canada. It is Anne's large personality that drives an otherwise small-scale story forward: Anne feels deeply, acts impulsively, and seeks forgiveness dramatically. The trials of this resilient character, her sensitive nature, and her huge vocabulary gave heart to generations of readers. She lent hope to the socially awkward, to the unloved, and to those who are not traditionally beautiful.

Lucy Maud Montgomery created in Anne a believable girl of great imagination. She was also able to create enduring, powerful moments of drama. Who couldn?t feel the depth of Anne?s sorrow when she discovered that she is unwanted by the Cuthberts, or share her rage as she cracked her slate over Gilbert Blythe?s head because of his smart remark about her red hair. Remember that horrid moment that she discovered that she had accidentally dyed her hair green instead of the raven black she longed for? Wasn?t it devastating when she accidentally got her best friend, Diana, drunk on homemade wine and was forbidden ever to see her again?

Such memories — borrowed from a novel or otherwise — should not be tampered with lightly. But despite my misgivings, I couldn?t resist diving into Before Green Gables. To borrow Anne?s words from the original, " 'It was wonderful-wonderful?It satisfied me here' — she put one hand on her breast — 'it made a queer funny ache and yet it was a pleasant ache.' "

With the permission of L. M. Montgomery?s heirs, celebrated Canadian writer Budge Wilson lays out the foundation of Anne?s character and provides convincing psychological underpinnings for her later behavior. And although her book's conclusion is by its nature foregone, Wilson fashions moments of surprise and wonder for readers by fully fleshing out a history to which we previously only had minuscule clues.

Anyone who has read Anne of Green Gables and its sequels wonders what happened to her in those years before she arrived at PEI at age 11. Even fans who haven?t read the books in years would recall that Anne was orphaned at a young age. Therefore we begin reading with a feeling of dread. Her parents are going to die; it?s just a matter of when.

Wilson launches the story with a classic biographical structure, beginning before the birth of Anne Shirley. Who were her parents? What were their stories? Mr. and Mrs. Shirley were young and in love, newlywed schoolteachers just starting out in life. Bertha Shirley, now a reluctant housewife, stays home while her husband teaches high school. She misses the "lively give-and-take of her English classes," and we empathize with her restlessness — it seems manifestly unfair that she is not permitted to teach now that she is married. Yet she makes a home, visits with neighbors, and enjoys the daily after-school reunion with Walter. It's an idyllic life made bittersweet by our knowledge that it's doomed to shatter.

Orphaned as an infant, Anne is left with the first family that will not love her. But Wilson provides at least one ally for each phase of her early childhood, and in her first foster home, her foster sister Eliza takes Anne under her protection. Although Anne's life is harsh without a mother?s love, Eliza nurtures her extraordinary intellect with stories and bits of schooling. She also relays to Anne what little she knows about her origins, including the fact her parents were particular about her name being spelled with an "e." These embedded references to the original will elicit nods recognition from devotees.

Put to work doing tedious and strenuous chores and caring for children only a few years younger than herself, Anne finds that life becomes more and more difficult. She also faces daily verbal abuse, with her red hair — a physical symbol of sin and disobedience to many — a particular object of scorn. Her only respite is when she drifts into daydreams and visits with her imaginary friend Katie Maurice.

As Anne grows up, her hardships increase. We long for her rescue during the days of bitter loneliness, her separation from school as well as the tedium of washing diapers and scrubbing floors. When she is sent to the Dickensian orphanage, one feels crushed along with the long-suffering girl. The night before, knowing of the remote possibility of adoption, Anne prays, "So thank you for all the good things. But please, my dear generous stars, lift me up now out of this dreary, pathetic, miserable asylum, where nothing is pretty and nobody really loves me, and put me down on Prince Edward Island, so that I can live happily ever after. Thank you so much for attending to this matter."

In rendering a younger Anne than her creator gave us, Budge Wilson does not so much imitate Montgomery?s writing style as pay homage to its flowery descriptions, often generously overflowing with a gloriously excessive vocabulary. The novel notably lacks the humor of the original — but that, at least forgivable given that there is not much fun in Anne?s early years.

Some readers might question Wilson's portrait of the Anne?s awareness and understanding of the world around her, which she paints as highly developed by the time Anne is no more than three years old. But anyone who has worked with gifted and hyper-verbal children would be willing to go along with this premise. This apparent aptitude, in turn, also explains Anne?s finely tuned emotional instincts and ability turn around difficult, even angry and abusive adults.

Meanwhile, Anne?s capacity for forgiveness, perseverance, and seemingly endless optimism, as established in Montgomery's novels, is given a biographical basis in Before Green Gables, in the form of various small kindnesses offered to the young girl. There is the truant officer who insists that she be sent to school, the young teacher who recognizes her thirst for learning, and the reclusive Egg Man, who nurtures her imagination. Despite the loss of her parents and years of abuse, loneliness, and betrayal she suffers, these few adults "kept her spirit alive."

When she finally arrives at the PEI train station, (as we knew for certain she eventually would), "Anne rose without a word or backward glance and, clutching her bag with both hands, walked along the aisle and down the steps of the train, into her new life." Readers will want to have a copy of Anne of Green Gables by their side as they read those last lines of Before Green Gables. The last sentence of the latter transitions seamlessly into the first chapter of the former, "Mrs. Rachel Lynde Is Surprised." At that point, only the truly hardened of heart will be able to resist continuing on Anne?s journey — the best is, after all, yet to come.

Author's Note: The original comes in a variety of editions, some particularly noteworthy. With a clean layout and unabridged text the Mary Engelbreit's Classic Library edition of Anne of Green Gables is perfect for a child's first reading experience with Anne. For lifetime fans, The Annotated Anne of Green Gables from Oxford University Press is a treasure. Those looking for an audio experience may want to sample Tantor Media's wonderful recording of Before Green Gables: narrator Renee Raudman?s dulcet tones perfectly capture the characters' personalities and social classes through finely tuned accents and regionalisms. Finally, a real treat — Anne of Green Gables on DVD. First shown in the U.S. as a PBS Wonderworks series, Kevin Sullivan's adaptation features superb casting (Megan Follows is Anne) and PEI is displayed in all of its wondrous glory.