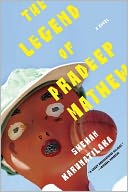 [Ed. Note — This Q&A with Discover Great New Writers director Miwa Messer is cross-posted from

her wonderful blog

]

Dear Reader,

Sir Lankan sportswriter W.G. Kaunsena is dying; his doctor has told him that he must quit drinking, but books and booze have kept W. G. alive — albeit alienated from his wife and son (though he loves them both), and slightly deluded about work and the world around him. Madcap, yet trenchant – with emotional echoes of Joseph O'Neill's Netherland and Frederick Exley's A Fan's Notes — Summer 2012 Discover pick The Legend of Pradeep Mathew is as much about family, country, and identity as it is about cricket.

Only one of the Discover Great New Writers selection committee members knew anything about cricket (and it's not me) when we began our Summer 2012 deliberations, but that hardly stopped any of us from embracing Karunatilaka's debut, which, as he points out below, isn't really about cricket…


Why would anyone in America be interested in a book about cricket?
Because I don't really think it's about cricket. I see it more as a drunken detective story about a sportswriter trying to track down a shadowy figure.


I don't think it's necessary to know cricket to get the book. [The Discover selection committe readers agree. -Ed.] Even though I have little interest in baseball, I enjoyed Moneyball because it told a bigger story. There is some cricket in The Legend of Pradeep Mathew, but it's presented in a way to interest even those who are bored by the game.


So what's the book really about?
Lots of things. Wasted genius, addiction, fathers and sons, racism, class snobbery, corruption and the failure of Sri Lanka and Sri Lankans over the past few decades. It's about how important sport is and how unimportant life can be. And there's quite a lot of drinking and falling over in it.


The book's has travelled a long way from Colombo, Sri Lanka. Can you fill us in on the journey?
I spent two years writing it in Colombo and a year editing and sending out queries. Didn't get any interest so I self-published in Sri Lanka and moved on with life. Then Chiki Sarkar from Random House India fished my email out of her spam filter and sent me a text. That was in early 2010.


Things happened steadily after that. It came out in the UK to good reviews, I got to travel to Cape Town, Bali, Hong Kong, London and all over India and pretend to be a cricket guru, even though I no longer watch the game. Then it won the DSC prize at Jaipur and soon I'll be in travelling around America trying to flog off a cricket book. Pretty surreal stuff.


You've said in interviews that you're not a cricket fan. What made you write The Legend of Pradeep Mathew?

Research. That's the toughest part of writing and potentially the most tedious. And that's where I faltered with previous attempts at writing. The research bored me and ultimately so did the story. With this book, research was just watching cricket matches, digging up obscure stats and hanging out with drunk old men. Didn't seem like work, even for a casual fan and a moderate drinker.


Who have you discovered lately?

These were my favourites of last year:


A Certain Age by Lynn Truss
She's the lady who got us excited over semi colons and apostrophes. Beautifully drawn characters, exquisitely crafted voices and stories that shift gracefully between dark and funny.


The War of Art by Steven Pressfield
A collection of wonderful vignettes on why we write and why we procrastinate. I read it whenever I'm putting off writing, which is often.


Stitch Your Eyelids Shut by Vivimarie Vanderpoorten
My favourite Sri Lankan writer. She's a gifted poet who uses simple words to tackle big themes like war, death, love and sex. Everyone should read her.
How To Make Gravy by Paul Kelly
The great Australian songwriter shares the story behind each of his songs. The kind of book that makes you want to pick up a guitar and reach for a chord.


The Cat's Table by Michael Ondaatje
I'm still in the middle of this, but I really don't want it to end. It's such a brilliant idea and the prose is exquisite. I'd like to write like this when I grow up.
A Fan's Notes is one of my personal, non-Discover favorites, and I have to say, I had a ball reading about W. G. and his Frank GIfford, Pradeep Mathew.
Cheers, Miwa
---

Miwa Messer is the Director of the Barnes & Noble Discover Great New Writers program, which was established in 1990 to highlight works of exceptional literary quality that might otherwise be overlooked in a crowded book marketplace. Titles chosen for the program are handpicked by a select group of our booksellers four times a year. Click here for submission guidelines.