Despite their reputation as buttoned-up bastions of lofty thinking, colleges and boarding schools end up being the breeding ground for the weirdest people, strangest ideas, fiercest infighting, and the most self-destructive behavior. Students are still learning how to behave, and many of the faculty seem to have forgotten how. It's Harry Potter plus booze, drugs, and sex; minus the sorcery.
The result is that the ivy-covered walls of campus enclose one of the richest settings ever for stories of humans at their least predictable. We've assembled some of the most memorable. If you're in school, you might hate this list. If you're already out, tell us — do these bring back any memories? Let us know what you think on Facebook or Twitter.
By David Lodge
There are no politics like academic politics. Two professors go at each other over an endowed chair. True to form, hypocrites all. And nobody knows better than an English professor what goes on in an English department.
By Zadie Smith
Glen Beck meets Philip Roth in this story of what happens when lefty burned-out intellectuals get tossed into a vacation spot with a right-wing family of potential in-laws.
By Donna Tartt
Worried about secret societies on college campuses? This is scarier than whatever you've dreamed up.
By Curtis Sittenfeld
If you have any nostalgia for your adolescent years, this novel about an outsider from Indiana dropped into an exclusive Massachusetts boarding school will cure it.
By Don DeLillo
Professor of Hitler Studies doesn't speak German, and the number of wives he's had puts any Hollywood player to shame. Exposure to a toxic chemical makes him obsess about death. Party over.
By Erich Segal
Romeo and Juliet go to college, but cancer gets her instead of family feuds and a dagger. The original tear-jerker.
By Michael Chabon
What happens when a college kid becomes a professor and refuses to grow up? He smokes too much pot, gets the dean's wife pregnant, and strangles his own creativity.
By Jeffrey Eugenides
You'll have to wait until October for this impossible-to-describe book. Leave it at this: a complicated love triangle and thinking too much about stuff you learn in school that you'll never use again. Like semiotics.
By Tom Wolfe
You'll be manipulated and lectured at, but it's Tom Wolfe on a 21st century elite college campus. Oh, what these kids won't do. Fun.
By J. Courtney Sullivan
Four girls at Smith with too many choices and too many opportunities. Break out the vodka.
By Philip Roth
Fired after being falsely accused of racism, sleeping with a woman half his age, guilty of corrosive misogyny, former Dean of Faculty Coleman Silk is somehow hiding an even more astonishing secret.
By Neal Stephenson
Twenty years before he wrote his high-tech bestsellers, Stephenson penned a hilarious send-up of college life.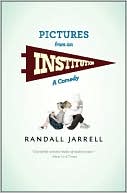 Pictures from an Institution: A Comedy
By Randall Jarrell
Originally published in 1954, Jarrell was considered the Dorothy Parker of the genre. It's set in a progressive women's college, so ladies, get ready to bite your tongue. Please don't throw the book at anyone.