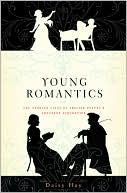 Coming this Spring is a new work in a genre I particularly love: books by scholars whose broader interests happily distract them from finishing their dissertations. Daisy Hay's engrossing Young Romantics is a "group biography" of one of those powerhouse collections of intellect and imagination that comes along every so often: in this case, the circle of early-19th-Century writers that included Percy Shelley, Mary Shelley, Lord Byron, John Keats, and Leigh Hunt.
Hay opens this fascinating account with the story of Leigh Hunt — an idealistic young newspaper editorialist and political radical, who would later be rather cruelly lampooned by Charles Dickens, in Bleak House — imprisoned for libel in 1813, after he published a rather fiery opinion about the Prince Regent. But his poor health, social position (and political celebrity) moved the prison's board to allow him to set up apartments within the prison's infirmary. The decorators were called in (they put up rose-patterened wallpaper and venetian blinds to screen the bars), and as Hay recounts, Hunt was soon ready to receive vistors in his "splendidly appointed rooms, a fairy-tale king holding court in a bower of his own creation." Soon he was the center of a peculiar literary salon, receiving fashionable visitors behind bars. Byron was among them, and recorded his anticipation of his first visit in verse:
To-morrow be with me, as soon as you can, sir,

All ready and dresse'd for proceeding to spunge on

(According to compact) the wit in the dungeon —

Pray Pheobus at length our political malice

May not get us lodgings within the same palace!
Sometimes one wishes that rhyme hadn't gone quite so completely out of fashion.
-BILL TIPPER