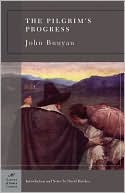 August 31: John Bunyan died on this day in 1688, four years after publishing the second part of A Pilgrim's Progress. Bunyan wrote the first part during twelve years of confinement for preaching his Baptist faith without a license. It tells of Christian's allegorical journey from "this World to that which is to come," requiring him to triumph over Obstinate, Pliable, Worldly-Wise, Ready-to-Halt and Madame Bubble; to negotiate the Slough of Despond and the town of Carnal Policy; to cross the Valley of Humiliation and the Plain of Ease; to rise above Lucre-Hill and the Delectable Mountain; and, like all who would arrive at the Celestial City, to make no purchase at Vanity Fair:
Therefore at this fair are all such merchandise sold: as houses, lands, trades, places, honours, preferments, titles, countries, kingdoms; lusts, pleasures, and delights of all sorts—as whores, bawds, wives, husbands, children, masters, servants, lives, blood, bodies, souls, silver, gold, pearls, precious stones, and what not.
Having been told he would "stretch by the neck" if he persisted in his preaching, Bunyan must have had a special point to make by including Mr. and Mrs. Timorous in his allegory. In part one, as Christian strides up the Hill of Difficulty, he meets Mr. Timorous running the other way; in part two, as she prepares to follow in her husband's footsteps, Christiana receives a visit from Mrs. Timorous, who advises her to stay home with her children, as Mrs. Obstinate, Mrs. Plyable, and everybody else was doing. Unpersuaded, Christiana continues to prepare for her journey, while Mrs. Timorous heads off to report her news to Mrs. Bats-eyes, Mrs. Inconsiderate, Mrs. Light-mind, and Mrs. Know-nothing. They move quickly from incredulity to good-riddance to more interesting gossip—a party the night before with Madame Wanton, Mrs. Love-the-flesh, Mr. Lechery, and Mrs. Filth.
---
Daybook is contributed by Steve King, who teaches in the English Department of Memorial University in St. John's, Newfoundland. His literary daybook began as a radio series syndicated nationally in Canada. He can be found online at todayinliterature.com.