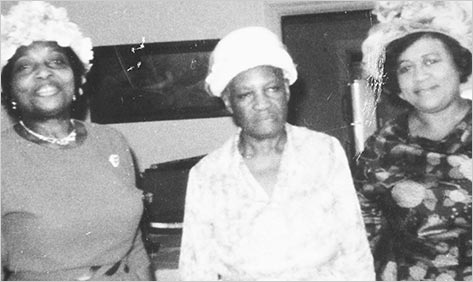 When I was a teenager, first dating my future husband, his grandmother owned a two-story white house on a busy corner, a block and a half from his parents' home. Daisy Carter rented rooms in the house, to various relatives and boarders, but the woman with her own separate apartment, with its own door and bathroom, was Big Ma.

That was what everyone called her. Her daughter was called Sis — she lived with her husband and two children a block the other way.

They were all close, the people on these three streets who'd come to Southern California from Georgia, as did Big Ma and Sis, from Mississippi, as did Daisy Carter, and from Oklahoma and Louisiana and Florida. Most often — as with Sis's husband, Floyd, and his brother, LB, also from Georgia — the men had served in the Air Force and were stationed here, and afterward never wanted to return to the segregated, impoverished, and violent South.

The first time I saw the woman called Big Ma, she was walking down the street toward my boyfriend's house, carrying a bucket and a newspaper rolled into a torch. He told me she'd light the torch, smoke out the wasps who'd built nests under the eaves of houses all along the block and then use the larvae to go fishing in the Salton Sea with his grandmother's husband, a short, stern man who'd been among the first black Pinkerton security men on the railroad in San Bernardino.

She was so tall — nearly six feet — and her skin was very dark, her expression somber. My boyfriend and his brothers and friends were very quiet when she approached.

Her son-in-law, Floyd Walker, had worked on aircraft at military bases for years; during his off hours, he cruised the neighborhood in an ancient truck, collecting cast-off produce for the pigs he kept on land near the Santa Ana River. After I was married, we took excess apricots and nectarines and even carob pods from our trees out to his pigs, and my in-laws would share in a pig with us in fall — we had fresh bacon, which my mother-in-law called streak-of-fat, streak-of-lean, and porch chops.

Big Ma and all the rest of the older women in the neighborhood were mythic figures to me when I was young. I was tiny and pale, so generic in my looks that people still ask me now whether I work at Wal-Mart or the post office, because they've seen me there, they say. Big Ma passed away, and so did Daisy Carter, and I was pregnant with my first child. I began to imagine them all the time, these woman and their heroic journeys from the South to Southern California, the tenacity and hard work that let them raise children and grandchildren here because they'd have education, and drinking fountains. This was the late 1970s and early 1980s — but they had come in the 1940s and '50s, when African Americans were dying still, over education and drinking fountains.

At twenty-seven, I began a novel about a woman named Marietta who grows up on an island just off the coast of South Carolina, near the Georgia border, and she was based on Big Ma, the image of that woman who was larger than life to me. I wrote at a card table in the back bedroom of the small white-painted house where my child would live, late into the night, while my husband worked the graveyard shift at a correctional institution.

The character of Marietta came to me because she was tall, stoic, and observant, and people were frightened of her size and serious demeanor. But the stories, of how hard it was to live on former plantations as sharecroppers, how people escaped through the military or through sports, had come to me from everyone in the community who told stories, at parties in the front yard of my in-laws' house, at local parks, at weddings and funerals.

I loved football, and was a sportswriter in college, and before I knew it, Marietta had twin sons who were so large and talented that they played football for the Los Angeles Rams, a team now gone but much loved here in the 1970s. Marietta survives with the help of older people in her community — just as I have, all these years.

They are all gone now, Big Ma, her daughter, Sis, her son-in-law, Floyd. But his brother, LB Walker, is eighty-five, and I see him nearly every day, because I drive past his house on my way to work, and we visit now and then. He came here, too, after being in the military, and he ran a popular nightclub just down the street from his house where Etta James, Ike and Tina Turner, and many others played in the 1970s and '80s.

Last summer, we sat on his porch for a long time while he talked about the old days. He was telling me about growing up on the farm, how hard he and his brothers and sisters worked, how his mother taught him and Floyd to sew and cook because they should be able to help out their wives, and that's why his restaurant was so good — because he learned to cook when he was a child.

Then he looked into his yard and told me that one day, he'd seen his grandmother's back. He came inside and she was changing her shirt, and he ducked away. But he said her back was covered with terrible scars, like the ones Americans see on historical photographs, from being whipped. "I never forgot that," he said. "Never did."

I had written about Marietta working on a plantation turned into a tourist site, and how she refused to let her sons play-act as slaves, and how a moment of violence comes close to replaying that terrible history.

Black history is American history, neighborhood history, family history. My three daughters know this story. They know the story of both grandmothers from the South — Daisy from Mississippi, Callie from Texas, though both died before they were born. Writing I Been in Sorrow's Kitchen and Licked Out All the Pots was my way, I realize now, of making sure I had those heroic women with me, and us, always. I heard a woman say that phrase in my mother-in-law's kitchen one night, after a long party and a lot of dishes. It meant survival, a wry sense of humor, and my luck in being able to dry silverware and listen.
---

Susan Straight has published eight novels. Her most recent, Between Heaven and Here, is the final book in the Rio Seco trilogy. Take One Candle Light a Room was named one of the best books of 2010 by The Washington Post, Los Angeles Times, and Kirkus Reviews, and A Million Nightingales was a finalist for the 2006 Los Angeles Times Book Prize. Her novel Highwire Moon was a finalist for the 2001 National Book Award. "The Golden Gopher" won the 2008 Edgar Award for Best Mystery Story. Her stories and essays have appeared in The New York Times, Los Angeles Times, Salon, Harper's, McSweeney's Quarterly Concern, the Believer, Zoetrope: All-Story, Black Clock, and elsewhere. Straight has been awarded the Lannan Prize for Fiction, a Guggenheim Fellowship, the Gold Medal for Fiction from the Commonwealth Club of California, and the 2013 Robert Kirsch Award for lifetime achievement. She is distinguished professor of creative writing at the University of California, Riverside. She was born in Riverside, California, where she lives with her family, whose history is featured on susanstraight.com.
Group photo courtesy of The Sims Family
Photo of Susan Straight: Skye Moorhead