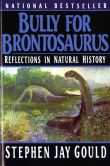 I am not insensible to natural beauty, but my emotional joys center on the improbable yet sometimes wondrous works of that tiny and accidental evolutionary twig called Homo sapiens. And I find, among these works, nothing more noble than the history of our struggle to understand nature — a majestic entity of such vast spatial and temporal scope that she cannot care much for a little mammalian afterthought with a curious evolutionary invention, even if that invention has, for the first time in some four billion years of life on earth, produced recursion as a creature reflects back upon its own production and evolution. Thus, I love nature primarily for the puzzles and intellectual delights that she offers to the first organ capable of such curious contemplation.
–the evolutionary biologist Stephen Jay Gould, born on this day in 1941; the excerpt comes from the Prologue to Bully for Brontosaurus (1991), one of Gould's many books of essays collected from his twenty-seven years of writing his popular monthly column for Natural History magazine
---
Daybook is contributed by Steve King, who teaches in the English Department of Memorial University in St. John's, Newfoundland. His literary daybook began as a radio series syndicated nationally in Canada. He can be found online at todayinliterature.com.