From hawks to hummingbirds, their fascinating nature and fragile destiny.
---
By Don Stap
As a literary scholar Don Stap can trace the history of birdsong in poetry and literature from ancient Greece to the modern world, but in this fascinating book the amateur birder (and author of A Parrot without a Name) lets the emerging science of "bio-acoustics" do the teaching. Hinging on work of pioneering ornithologist Don Kroodsma, Birdsong opens our ears freshly to the mystery of avian vocalizations (learned, not instinctual, it turns out) and their role in these complex creatures' lives.
---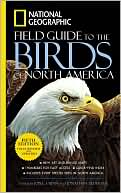 National Geographic Field Guide to the Birds of North America: Fifth Edition
By Jon L. Dunn and Jonathan Alderfer
There are about 50 million birders in the United States, and you can bet a good percentage of them are paging through this book right now. That number is expected to double by 2050 — this fact-stuffed birding library stalwart will be just as essential as 21st-century binoculars for the next generation.
---
Living on the Wind: Across the Hemisphere With Migratory Birds
By Scott Weidensaul
Some birds migrate late at night, while others like to get the job done and cover 5,000 miles in one flight. Weidensaul travels the globe to research the behavior of migratory birds and the dedicated people who study them. Along the way, his high-altitude perspective leads to some sobering thoughts on how man is reshaping the world we share with our feathered fellow travelers.
---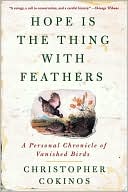 Hope Is the Thing with Feathers: A Personal Chronicle of Vanished Birds
By Christopher Cokinos
An elegiac study of extinct North American birds, Cokinos's beautiful text chronicles how searching for the name of a bird he's seen but doesn't recognize leads to his discovery of birds that no longer fill the skies: the Carolina parakeet, the Labrador duck, and many others.
---
The Life of the Skies: Birding at the End of Nature
By Jonathan Rosen
Rosen's thoughtful book is founded on a paradox: Technology is helping to protect wildlife while at the same time it is destroying wildlife. The author of The Talmud and the Internet meditates on the changing world, the many birds that no longer exist, and those that may soon be lost to us forever.