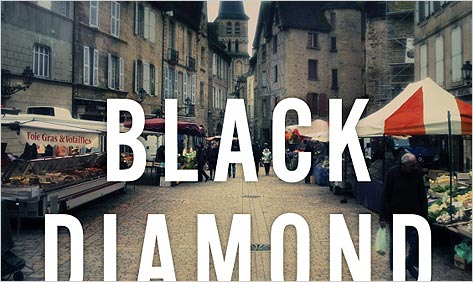 There is a gruesome murder in these pages—and arson and vicious gang warfare—but they pale before the real horror: someone is monkeying with the truffle trade, here in the bosom of Périgord, home to Martin Walker's genial trencherman cum village policeman, Bruno Courrèges.

Bruno's homeplace is the little commune of St. Denis, nestled along the Dordogne, and he takes his role of protector seriously—this is, after all, a one-cop town—though amiably: he nurtures its youth and treats everyone with tact and respect. He is no rube but a man of the world gone to earth. As Black Diamond is now the third in this series of rural police procedurals (after Bruno, Chief of Police and Black Vineyard), he has seen more than his share of heavy criminal weather for his backwater posting. But what really sticks in his craw is when someone or something threatens the commune's soul, its way of life; and, as signifiers go, the truffle is trump.

So as Bruno endeavors to discover who killed his good friend and hunting partner, as well as quash a nasty turf war between the immigrant Chinese and Vietnamese populations—which leads him into an examination of the less savory aspects of the French colonial experience and an illuminating brush with Corsican organized crime—he is also trying to uncover who is behind the truffle swindle. Meanwhile, he is getting battered on the local rugby pitch, absorbing an even greater battering from his love life, trying to find common ground between the upstart Green Party and the village's old guard, negotiate the Oedipal drama between the sawmill owner and his smug son, and noodling about in his garden and his own truffle plantation under the white oaks of his cottage.

And eating, which may be the most serious business of all, this being Périgord and Bruno being Bruno. Walker draws the many meals and their preparation with genuine affection, making us swoon rather than cringe. When he writes of the hunter's morning snack or a bottle of local Pomerol or chopping garlic for pommes sarladaises, you want to tuck in, not check Saveur magazine to see if he got it right and the wine is up to snuff. Donna Leon, eat your heart out.

Walker keeps it all motoring along at a leisurely pace, his eye skinned for the small elements that let readers set their feet in St. Denis, beguiled by a baguette and a petit blanc to start the day. Best, his pastoral is not cute; it is elemental, sensuously ravishing, rich in moral complexities, and full of sweet and sour surprises.