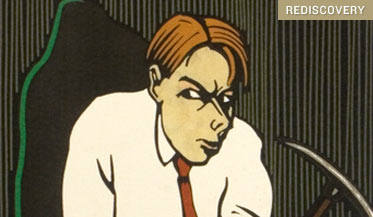 Essay by Alexandra Mullen

The Woodhouse family (various branches prefer the less intuitive spelling "Wodehouse") has contributed much to literature. The early-19th-century figure Emma Woodhouse (floruit 1816) was famously "handsome, clever, and rich, with a comfortable home and happy disposition…seemed to unite some of the best blessings of existence; and had lived nearly twenty-one years in the world with very little to distress or vex her." Her early-20th-century relative Pelham Grenville Wodehouse (1881-1975) inherited her happy disposition, but he was never handsome and started off life in a series of boarding schools and holiday visits with vexing aunts; a distressingly timed mishap to the family fortune obliged him to forfeit a university career for uncongenial wage slavery at the Hong Kong and Shanghai Bank (still doing business in the early 21st century under the modern moniker HSBC). Fortunately, Emma and young Pelham shared another family characteristic: imagination.


Such an adventure as this, — a fine young man and a lovely young woman thrown together in such a way, could hardly fail of suggesting certain ideas…. Could a linguist, could a grammarian, could even a mathematician have seen what did, have witnessed their appearance together, have heard their history of it, without feeling that circumstances had been at work to make them peculiarly interesting to each other? — How much more must an imaginist, like herself, be on fire with speculation and foresight!


Emma Wodehouse, given the mores of her society and the inherent limitations of being a fictional character, never realized her imaginist potential to become a novelist, although her precursor Jane Austen brilliantly beat the odds. P.G., however, did almost nothing else but write from the time he was at school to his death at the age of 93. The blessings of riches and a comfortable home with his wife and stepdaughter ensued.

Like Miss Woodhouse in this as well, young Plum Wodehouse took Young Love as the basic starting point for his plots. He begins when the fine young man and the lovely young woman meet cute. The unfolding story follows love's never-smooth course, sometimes ending in the "perfect happiness of such a union," other times in the equally perfect happiness of escape. Wodehouse used this plot in almost all his work, including the very successful musical comedies he wrote in the 1920s and '30s with Guy Bolton, which included work with the Gershwin brothers, Jerome Kern, and Fred Astaire, et al. Considering his enormous output — I'm not sure anyone has totted it all up — it is extraordinary how brilliantly Wodehouse consistently rang the changes, from relatively simple boy-meets-girl comedy to Jeeves-and-Wooster high farce. I'm particularly partial to the Blandings novels, which take place at a bucolic Shropshire castle where young love is challenged by vigilant aunts, scallywag uncles, masquerading guests, the devious secretary to top them all, the Efficient Baxter, and pig thieves of all descriptions.

There's no denying that most of Wodehouse's young lovers come out of the stock bin of the between-the- wars character warehouse. The recent reissues of two of his novels that American readers may not know display good examples of the type: Sam the Sudden (1925) and Big Money (1931). The girls have blue eyes — "a very warm, dark blue like the sky on a summer's night" — becoming hats, and frank dispositions. The men "have the appearance of a welterweight boxer who takes a cold bath every morning and sings in it." They are, alas, impecunious. These frankly unpromising beings are enlivened by snappy dialogue, and, even better, sent scurrying by preposterous misunderstandings, Manhattan crooks in London, dyspeptic millionaires, press magnates, and false beards. Wodehouse was a genius at farcical plotting, and these early novels, written at the same time as the best of his stage comedies, share the same turn-on-a-tuppence timing. Best of all, the characters are clothed in couture Wodehouse verbiage, guaranteed to make even the most wooden character jauntier than Jack Buchanan's walking stick.

At this point, the reviewer's temptation is just to stop and quote, and I for one do not intend to resist. I'm partial to those pieces of English poetry that accrete, with brilliant inappositeness, to people who spent most of school throwing ink pellets at each other: "When the poet Bunn (1790-1860) spoke of the heart being bowed down by weight of woe, he spoke, of course, as poets will, figuratively. Fortunately for the security of our public vehicles, grief has no tonnage. If the weight of human sorrow had been a thing of actual pounds and ounces, the Number Three omnibus which shortly before 8.30 p.m. set Lord Biskerton down at the corner of Croxleigh Road, Valley Fields, could never have made its trip from London."

Even imported American hoodlums deserve the best that Palgrave's Golden Treasury can afford. Chimp Twist's forcibly shaven upper lip somehow inspires a quote from Tennyson's "In Memoriam," one of the hairiest, um hoariest, of Victorian poems: "For there is this about moustaches…that, like truth, though crushed to earth, they will rise. A little patience and his moustache would rise on stepping-stones of its dead self to higher things." His rival crook gets more Tennyson, from "Maud" this time, as he listens to the clever plan hatched by his moll: " 'There is none like her, none,' Mr. Molloy's glistening eye seemed to say. 'Give us an earful, baby.' "

The pointed mismatches of Wodehouse's allusions suggest that he, at any rate, did not waste his time at Dulwich College, but in these two books several of the fictional alumni of Wrykyn and St. Austin's, based on Dulwich, seem not quite to listened as attentively. One pens this blithe note: "You will doubtless be surprised to learn that I have borrowed your money. I will return it in God's good time. Meanwhile, as Sir Philip Sidney said to the wounded soldier, my need is greater than yours." (Wodehouse shares Austen's ability to make hilarious characters who, in real life, would be tiresome.)

Wodehouse's young men about town might not be overly brainy, but they haven't completely lost the spirit that made England great: " 'I've snaffled an excellent chicken,' proceeded Toddy, with the modest pride of a Crusader who has done big things among the Paynim. 'Also some salad of sorts.' "

Wodehouse's special verbal grace makes his novels seem like the Platonic form of a souffl?, hovering weightless and delicious, outside of the predations of space and time. But in fact, they're not. They're as firmly based in observed fact as Emma Woodhouse's, even as her wildest imaginings of love at Hartfield are matched by his consciously farcical trajectories. If you doubt me or want to know more — a lot more, as it happens — consult N.T.P. Murphy, a formidable Wodehousian, who has just published his two-volume Wodehouse Handbook, which confirms the many real-life analogues in the novels. Valley Fields, for example, is the Dulwich of Wodehouse's schooldays, down to individual houses, streets, and even the Number Three omnibus that Lord "Biscuit" Biskerton took in search of his lady love. And surely you didn't doubt that there really is a poet Bunn? He's Alfred Bunn, Wodehouse's dates are right, and he penned that Victorian favorite "I Dreamt That I Dwelt in Marble Halls." Murphy's book is published in England by Popgood & Groolley — who could ask for anything more?

I could, and if you can too take heart that Overlook Press has already released about 58 handsomely produced and reasonably priced hardcover Wodehouses; only about another 50 or so to go. Now there's one of the best blessings of a reader's existence — dive in anywhere.