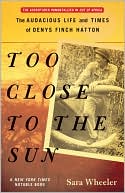 On this day in 1930, Karen Blixen's dual love affair with Denys Finch Hatton and Africa reached its high point—her first plane ride over the Ngong hills, described in a letter the next day:
It is a magical effect that he has upon me…as if I get light and air after having been long confined in a room. I went up flying with him yesterday, and I think it is doubtful whether a greater happiness could exist for me than to fly over Ngong with him….
There were more flights over the next six months, but all was over within a year: Blixen lost her farm in March, and when Finch Hatton was killed in a plane crash two months later she returned to Denmark for good.

By all accounts, Finch Hatton was irresistible, untameable, and uncompromising—a man, said Blixen, of "unconditional truthfulness, which outside of him I have only met in idiots." As described in Sarah Wheeler's Too Close to the Sun (2007), his leave-taking from Blixen is layered in romance—off to scout elephants by air, he pauses to read from a poem written for or about him by another lover, the British bohemian Iris Tree:
Denys left the farm on Wednesday, May 6, telling her to look out for him the following Thursday, when he would be back in time to have luncheon with her. He turned for the drive, then went indoors again to collect a volume of poems. It was the book Iris had published. At the end, he stood with one foot on the running board of the Hudson and one on the gravel, and with a finger in the book below a poem they had been discussing. "Here are your grey geese," he said, and read a few of the lines Iris had written for him.

I saw grey geese straining over the flat lands,
Wild geese vibrant in the high air,
Saw them as I feel them, symbols,
Felt my soul stiffened out in their throats…
And the grey whiteness of them ribboning the enormous skies,
And the spokes of the sun over the crumpled hills.
Beryl Markham, also a flyer and a memoirist of Africa (West with the Night), was scheduled to accompany Finch Hatton on his last flight but did not, perhaps because of a premonition, or because she was pregnant with his child.
---
Daybook is contributed by Steve King, who teaches in the English Department of Memorial University in St. John's, Newfoundland. His literary daybook began as a radio series syndicated nationally in Canada. He can be found online at todayinliterature.com.