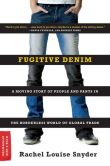 Blue jeans celebrate their unofficial 140th birthday today, the dry goods merchant Levi Strauss and the tailor Jacob Davis receiving a patent on May 20, 1873 for "a new article of manufacture, a pair of pantaloons having the pocket-openings secured at each edge by means of rivets." The Strauss-Davis pants were created for working men in the American West, but the denim historians track the fabric back to Nîmes, France (denim = de Nîmes), the indigo dye back to a handful of ancient civilizations, notably India. The anthropologists ponder how the garment became so universal and "deeply semiotic":
Living with an increasing consciousness of the sheer scale of an often alienating world, people want to lay claim to being part of that world, but fear that in doing so they will lose their sense of individuality and specificity. So to have one garment that is simultaneously extremely personal and extremely ubiquitous can be important in its own right. Merely wearing jeans can be a way of resolving the contradiction, of becoming more personal and more global at the same time.
The above is excerpted from Blue Jeans by Daniel Miller and Sophie Woodward, the two cultural anthropologists who are behind the Global Denim Project, an online academic group whose contributors investigate "Denim Chic Among Muslim Women" and similar jean topics. Global in a different way, Rachel Snyder's Fugitive Denim explores "the human lives and struggles" behind blue jeans and the modern garment industry in general. Those struggles are frequently associated with an often ludicrous international tangle of production, distribution, and regulation:
The rules are dizzying. You can, for example, use a label that says "Made in Bangladesh" even if the shirt is sitting on a hanger at a factory in China. If the back and front panels of the shirt and the sleeves were sewn in Bangladesh, then shipped off to China to have the cuffs, collars, and finishing done, you can circumvent the fact that China has perhaps used up all of its shirt quota, and under current law you'll be allowed to use the "Made in Bangladesh" label. It's as if John Cleese and the Monty Python gang got together and wrote the global trade rules for garments. A sleeve in Turkey! A fly in Laos! A rivet and button in Kenya! And a label in Suriname!"
---
Daybook is contributed by Steve King, who teaches in the English Department of Memorial University in St. John's, Newfoundland. His literary daybook began as a radio series syndicated nationally in Canada. He can be found online at todayinliterature.com.