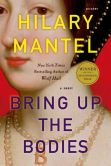 Queen Anne Boleyn was arrested and imprisoned in the Tower of London on this day in 1536, charged with adultery, incest, and witchcraft. Two weeks later she was found guilty and beheaded; by the end of May, Henry VIII was remarried to Jane Seymour, and Reformation England was a major step closer to its divorce from Papal Rome.

Judging from the number and variety of recent studies, Boleyn and the tumultuous events surrounding her continue to fascinate. Some of the recent books promise through their subtitles "The Daring Truth…" about Anne, or "A New Look…" at the myths that have hardened around her. Amy Licence widens the circle to include others who found themselves In Bed with the Tudors. Hilary Mantel's novel Bring Up the Bodies is titled after a contemporary legal phrase, used as part of the elaborate show trial of Anne and her alleged sexual partners:
Statements, indictments, bills are circulated, shuffled between judges, prosecutors, the Attorney General, the Lord Chancellor's office; each step in the process clear, logical, and designed to create corpses by due process of law.… The order goes to the Tower, "Bring up the bodies." Deliver, that is, the accused men, by name Weston, Brereton, Smeaton and Norris, to Westminster Hall for trial.… They are brought in by armed guards through a fulminating crowd, shouting the odds.
Howard Brenton's play Anne Boleyn (2010) is among several recent works exploring a less familiar and more influential side of Boleyn's life — her role as champion of the English Bible, the King James Version of which was published on this day in 1611. The KJV is predominantly based on the translations made eighty years earlier by William Tyndale — this so unauthorized that Tyndale was executed for it, later in 1536. Anne actively supported Henry's defiant plan to have a "Great Bible," forerunner of the KJV, placed in every church. She also openly carried a copy of Tyndale's forbidden translation.

The opening of Brenton's play has Boleyn's ghost enter in her bloodstained execution dress, carrying a bloody bag. Before she takes from this her own severed head — "Funny, a head's smaller than you think. Heavy little cabbage…." — she pulls out Tyndale's Bible: "Don't you realize? This killed me! This book! This put me in the Tower, this made the sword, the sword, the sword…."
---
Daybook is contributed by Steve King, who teaches in the English Department of Memorial University in St. John's, Newfoundland. His literary daybook began as a radio series syndicated nationally in Canada. He can be found online at todayinliterature.com.