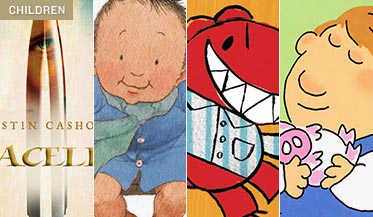 Last year around this time, I attempted to answer the question that regularly plagues adult gift givers with children in their lives: "How do I buy a book for a gift for a kid I don't know very well?"

It's that time of year when many of us are looking for just the right present for those kids that we don't see all the time — and books are a natural choice. As the nieces and nephews and godchildren have gathered around the tree or finished lighting the menorah, it's great to offer each one an alternative to the pile of gadgets and software, and as the saying goes, a book really is a present you can open again and again.

But how do you select the right book for each child? As a children's librarian, I get asked this a lot. My method: a little reconnaissance pays off big. How old is the recipient? Do you have a clue about likes and dislikes — particularly any subjects, toys, or imaginary themes that add up to an obsession? Armed with even this small amount of information, you can go a long way toward getting a smile when your gift is unwrapped.

To aid you in your mission, here are my picks from the thousands of children's books published this year — sorted by age group, and with some notes to help you spot just the right book for that young reader.

For the family with a toddler don't miss Fifteen Animals! From the master Sandra Boynton (Workman). Boynton, who gave the world its perennial favorite board books, Moo, Baa, La, La, La, Blue Hat, Green Hat, and Doggies, strikes gold again with her latest book for the youngest readers. Her clever sense of humor is evident in this counting concept board book. A little boy has 15 pets; 14 are named Bob, and the 15th, a teeny tiny turtle, answers to Simon James Alexander Ragsdale the Third.

Is there a small niece or nephew in the picture who loves trucks? A good match is Trucks Go by Steve Light (Chronicle). With its heavy board horizontal format and sweeping watercolors, we are treated to a variety of vehicles and the unique noises that they make. The box truck goes "Chuggada-Chuggada Clankity, Clank." The auto carrier goes, "Rooor Rooor Bumpada Bumpada, Honk Honk," and of course, the fire truck goes, "Whee-ooo, Whee-ooo, Whee-ooo."

All parents would welcome a new nighttime read-aloud, and for repeated readings nothing is better than Ten Little Fingers and Ten Little Toes. Writer Mem Fox and illustrator Helen Oxenbury are bona-fide stars of children's literature who have teamed up to create a new classic containing infectious rhyming language paired with the most delectable multicultural array of babies displaying their pudgy digits. Alternatively, if you or your kid have had enough of sweet and cuddly tots already, Dinosaur vs. Bedtime. Roar!

Also leavening the picture-book sugar with some laughs is Big Bad Bunny by Franny Billingsley and brilliantly illustrated by G. Brian Karas, for the fans of I'm Not Cute, a sleeper hit from few years ago. Baby Boo-Boo, the tiniest mouse, transforms into Big Bad Bunny, who can stomp through the mucky swamp, crash through tangly bushes, and leap over a rushing stream. She's big and she's bad — even when Mama Mouse has to come to her rescue.

If I could only pick one picture book for a four- and five-year-olds, it would be A Visitor for Bear by Bonnie Becker, with pictures by Kady MacDonald. No one ever came to Bear's house. Curmudgeonly Bear liked it that way. He even had a sign, "No visitors allowed." But a polite, persistent mouse, "small and gray and bright eyed," disturbs Bear repeatedly — the result is a fun, rhythmic read-aloud that captures the give-and-take of new friendships.

Both the visual and the verbal astound in David Elliot's On the Farm. The concise, often witty poems about rural animals make it the book for the five- or six-year-old who has a fascination for wordplay and a sense of humor. Luminous oversized woodcuts by Caldecott Honor Award winner Holly Meade lovingly depict the pigs and snakes, wildflowers and grasses of the barnyard environs.

Last year I was dazzled by the monstrous close-ups of Nic Bishop's Spiders, and this year my favorite fact book for the under-seven set is Bishop's Frogs. An award-winning photographer, Bishop creates a stunning collection of images that span the globe — from the huge African bullfrog to the tiny poison dart frogs of Central and South America. The pictures are accompanied by pages of frog facts, too.

Any family with elementary-aged children will treasure the late Bill Martin Jr.'s Big Book of Poetry. The author of Brown Bear, Brown Bear What Do You See? and Chicka Chika Boom Boom selected nearly 200 of his favorite poems for this impressive compilation. It's a treasury of verse by poets such as Aileen L. Fisher, Robert Frost, Nikki Giovanni, and Lee Bennett Hopkins paired with brilliant illustrations by well-known artists such as Ashley Bryan, Henry Cole, Lois Ehlert, Chris Raschka, and Nancy Tafuri. If you are looking for an outstanding teacher's gift, this is it.

The book of the year for eight-, nine-, and ten-year-olds is, surprisingly, a memoir: Jon Scieszka's Knucklehead. The first Ambassador for Young Peoples Literature and bestselling author of many books including The True Story of the Three Little Pigs presents an episodic recounting of his childhood memories. Scieszka is aware that every kid isn't a big reader — he privileges short chapters, easy language, and scrapbook illustrations. All the impulsive behavior exhibited by a family of boys is vividly de scribed: lighting fires, breaking bones, and getting into trouble with the nuns at school. This is a laugh-aloud, snort-milk-through-your-nose gift for ages eight to 50 and the perfect intergenerational gift. Scieszka's childhood escapades are sure to spark memories from our own relatives. (Did you know that grandpa, that retired small-town family doc, was the kid that shot out all the streetlights on Main Street?)

On the fiction side, The Illustrated Wee Free Men: A Story of Discworld by Terry Pratchett is a wonderful read-aloud chapter book for families with seven-, eight-, or nine-year-olds. Stephen Player illustrates this exceptional reissue in full color. He has perfectly captured the adventures of Tiffany Aching, the wee big witch, and her plague of allies the Mac Na Feegles, blue-skinned pictsies, as they attempt to rescue her baby brother from the Queen of the Fairies.

Speaking of witches and fairies, we should pause to talk about that particularly challenging case — the young fantasy reader who seems to have read everything. In my case, it's Jeremiah, a voracious reader who probably has already discovered big fall books like Terry Pratchett's alternative history novel Nation or Suzanne Collin's dystopic Hunger Games. I'm pretty sure that he most likely hasn't have caught wind of Eon: Dragon Eye Reborn. New to our shores, Australian Alison Goodman has created a sweeping novel rich in cultural detail that features an against-all-odds protagonist caught up in unexpected political intrigue. Weighing in at over 500 pages, this is the one for a kid waiting for the next big book.

But that's just for starters — it has been a great year for fantasy and one of the most gripping is Graceling. First-time author Kristin Cashore combines the political intrigue of The Thief with the violent, fast-paced adventure of The Matrix and a not-so-small touch of romance. In a world where a few special souls exhibit extraordinary talents or "graces," Katsa discovers at the age of eight that she's tragically gifted with the ability to kill. Now in her late teens with years of martial arts training, employed as an enforcer, she begins to take charge of her own destiny.

Is there a sullen teen in your life? You know the one: the all-black wardrobe, the long bangs veiling her face. The one who barely tolerates the presence of adults, who is dragged to these gatherings of effusive people she hardly knows squealing way too up-close, "My, how you've grown! Why, I remember?" Just hand over a copy of Skim by Mariko Tamaki. There is no need for big explanations, perhaps just a light comment, "Thought you might like a graphic novel. It won a few awards.? People are talking about it. There is some strong language…. If anyone asks you didn't get it from me."

One final principle to remember: the biggest faux pas in book gift giving is going too young. Kids can grow into "older" titles; you, on the other hand, may never recover from the embarrassment of having given a ten-year-old a book about talking animals — unless, of course, you've handed over the latest in the Redwall series.