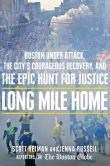 What you see first, after the starting gun's crack, is a column of bobbing runners, thousands of them, surging downhill on a twisting two-lane road, a kinetic rainbow of tank tops, radiant T-shirts, race-day costumes, visors, headbands, and hats. It is a thrilling sight every year, these opening moments of the Boston Marathon, in a port of Hopkinton, Massachusetts, known as Cookie's Corner, named for a longtime townie who used to man the starting line. Here, the fast and the slow, the agile and the aging, the big names and the also-rans all begin their unison descent to Boston's Copley Square, 26.2 miles away in the heart of the city….
The first Boston Marathon was held on this day in 1897. The world's oldest annual marathon, and now one of the six "World Marathon Majors," the Boston race attracted only eighteen runners in its first year; this year's event has 36,000 registered, and organizers expect over a half million defiant spectators.

The excerpt above begins Scott Helman and Jenna Russell's just-published Long Mile Home: Boston Under Attack, the City's Courageous Recovery, and the Epic Hunt for Justice. Just a few paragraphs later, the confusion, horror, and human kindness that shaped the 2013 tragedy begin to unfold:
Runners take refuge wherever they can — in the vestibules of brownstones, in campus buildings at Boston University, in a Bank of America branch, on nearby stoops. No one knows what to do, where to go. So they wait, the cold now stiffening their muscles, seeping into their bones. Residents of nearby apartments bring them water, food, blankets, garbage bags to cut the wind, and armfuls of clothing — yoga pants, exercise jackets, sweatshirts. They offer use of their cell phones. Some bring runners into their homes. All of these small gifts of humanity and generosity will add up to something much larger in the days ahead. They will not be forgotten.
---
Daybook is contributed by Steve King, who teaches in the English Department of Memorial University in St. John's, Newfoundland. His literary daybook began as a radio series syndicated nationally in Canada. He can be found online at todayinliterature.com.