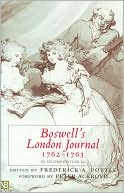 November 15: Onthis day in 1762 James Boswell left Edinburgh for London, beginning theeight-and-a-half-month stay that would be recorded in his London Journal. When this and most of Boswell's other journals—some8,000 pages of manuscript—were discovered in the 1920s and 30s, they earned hima reputation as one of the great British diarists, to go with his longstandingreputation as one of the great biographers for The Life of Samuel Johnson.
Read for Boswell's relationship with Johnson, the highlightof the Journal might be theirinauspicious first meeting. Having sought out Johnson in a bookshop, andknowing of his "mortal antipathy at the Scotch," Boswell tried tohide his roots. When found out, he attempted a jest: "Mr. Johnson, indeedI come from Scotland, but I cannot help it." "Sir," Johnsonfamously replied, "that, I find, is what a great many of your countrymencannot help." Boswell goes on to say that although Johnson is "a manof very dreadful appearance"—sore eyes, convulsive tics, scrofula scars,slovenly dress, "uncouth" voice, "roughness of manners"—his"great knowledge and strength of expression command vast respect and makehim very excellent company."
But the Journal isas much a twenty-one-year-old's candid coming-of-age story, as a window upon 18th-centuryLondon. Boswell was so excited to escape Edinburgh and his father's upper classexpectations that, seeing London from Highgate Hill, he "gave three huzzas"and burst into song. Here was "the noise, the crowd, the glare of shopsand signs"; here "we may be in some degree whatever character wechoose." And Boswell's days are full of many other first meetings, whetherliterary (Oliver Goldsmith and David Garrick) or sexual (the beautiful,twenty-four-year-old actress, Louisa and many ladies of the night). Boswelldetails his every meal, purchase, and encounter, citing Johnson himself assanction for putting down a "fair and undisguised" record:"Sir," said he, "there is nothing too little for so little acreature as man. It is by studying little things that we attain the greatknowledge of having as little misery and as much happiness as possible."
---
Daybook is contributed by Steve King, who teaches in the English Department of Memorial University in St. John's, Newfoundland. His literary daybook began as a radio series syndicated nationally in Canada. He can be found online at todayinliterature.com.