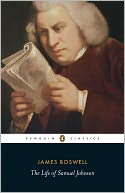 May 16: James Boswell published his Life of Samuel Johnson on this day 1791, the date chosen as a commemoration of their first meeting, on this day in 1763. Having developed a "mysterious veneration" of Johnson, Boswell had tried for some time to arrange a proper introduction, and then, while he was taking tea at the Covent Garden bookshop of his friend, Tom Davies, "Dictionary Johnson" suddenly walked in:
Mr. Davies mentioned my name, and respectfully introduced me to him. I was much agitated; and recollecting his prejudice against the Scotch, of which I had heard much, I said to Davies, "Don't tell where I come from."—"From Scotland," cried Davies roguishly. "Mr. Johnson, (said I) I do indeed come from Scotland, but I cannot help it." I am willing to flatter myself that I meant this as light pleasantry to sooth and conciliate him, and not as an humiliating abasement at the expense of my country. But however that might be, this speech was somewhat unlucky; for with that quickness of wit for which he was so remarkable, he seized the expression "come from Scotland," which I used in the sense of being of that country; and, as if I had said that I had come away from it, or left it, retorted, "That, Sir, I find, is what a very great many of your countrymen cannot help."
Though some contemporaries regarded Boswell as a toady and a "memorandummer," his Life has a privileged position in Johnson scholarship and in the history of biography. But it was not the first to appear, and many other memoirs of the day include additional Johnsoniana. The following anecdote, reported by William Seward, is included in G. B. Hill's two-volume Johnsonian Miscellanies (1897):
Dr. Johnson was observed by a musical friend of his to be extremely inattentive at a concert, whilst a celebrated solo player was running up the divisions and subdivisions of notes upon his violin. His friend, to induce him to take greater notice of what was going on, told him how extremely difficult it was. "Difficult do you call it, Sir?" replied the Doctor; "I wish it were impossible."
---
Daybook is contributed by Steve King, who teaches in the English Department of Memorial University in St. John's, Newfoundland. His literary daybook began as a radio series syndicated nationally in Canada. He can be found online at todayinliterature.com.