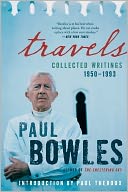 Paul Bowles died on this day in 1999, aged eighty-eight. Bowles continued working on his translations, his music, and the odd short story until the end, and continued living in Tangiers — fifty-three years there in all, over forty of them in the same nondescript apartment. In the final pages of The Pillars of Hercules, his Mediterranean travel book, Paul Theroux describes a 1994 visit to Bowles's apartment. Alert but detached, Bowles was reclining on a pallet in his heavily curtained and carpeted bedroom, the air overheated (by a blowtorch attached to a gas canister) and heavy with smoke from kif cigarettes:
No living space could have been smaller than this back room where he obviously lived and worked; he ate here, he wrote here, he slept here. His books, his music, his medicine. His world had shrunk to these walls. But that was merely the way it seemed…. His world was within his mind, and his imagination was vast.
But Bowles had been a lifelong and often off-road traveller, many of his excursions written up for the magazines of the day. Travels (2011) collects pieces published over four decades, one of these an account of scouring Morocco for traditional music, a documentary project funded by the Rockefeller Foundation in the early 1960s. The formidable obstacles ranged from governmental red tape to dubious Berber potentates to squalid "hotels" in which all the rooms had their door handles removed. Somewhere in the Rif Mountains, Bowles finally tracked down the nearly extinct zamar — a double-reed instrument, with two mouthpieces and two detachable bull's horns — and its irrepressible owner:
He was an expert on his instrument, and he played it in every conceivable manner: standing, seated, while dancing, with horns, without, in company with drums and vocal chorus, and as a solo. He insisted on playing it even when I asked him not to. Within two hours my principal problem was to make him stop playing it…. I finally seated him ten or twelve yards away from the other musicians. He went on playing, his cheeks puffed out like balloons, sitting all alone under an orange tree, happily unaware that his music was not being recorded.
---
Daybook is contributed by Steve King, who teaches in the English Department of Memorial University in St. John's, Newfoundland. His literary daybook began as a radio series syndicated nationally in Canada. He can be found online at todayinliterature.com.