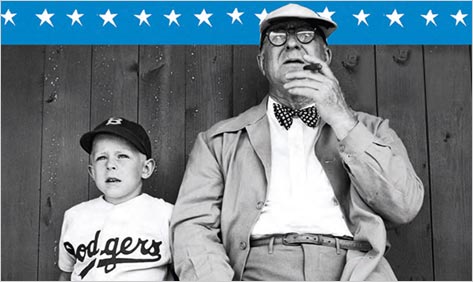 As General Manager of the Brooklyn Dodgers, Branch Rickeychanged Major League Baseball forever when he signed the first African-Americanplayer, Jackie Robinson. Legendary newspaperman Jimmy Breslin makes it clear inthis conversational biography that Rickey had planned to shatter baseball's apartheidfor over four decades, having already witnessed firsthand the shame ofsegregation when an African-American teammate was denied entry to a hotel theteam had booked. The year? 1904.
The story of Rickey and Robinson's breakthrough serves hereas an anchor for a tale of the older man's trailblazing baseball career. Rickeycame to the Dodgers after building legendary St. Louis Cardinals teams—inventingthe revolutionary farm system concept along the way—but had clashed with theowner when he proposed to desegregate stadium seating. On August 28, 1945, in the Dodger offices,Rickey would transform baseball again. Breslin renders the era-altering meetingbetween Rickey and Robinson with appropriate drama. "I'm looking for aballplayer with the guts not to fight back," Rickey told Robinson, "They'llthrow at your head." Intrigued and agitated, Robinson responded, "MisterRickey, do you want a player who is afraid to fight back?" No, Rickeysaid: "You've got to win this thing with hitting and throwing…Nothingelse!"
Breslin takes us inside Ohioan Rickey's strict Methodistupbringing, where his values included a loathing of liquor (the author seemsunable to resist a jab at his teetotalling hero: "Rickey never understoodthe relaxation that accompanied a cold beer at a bar.") Yet Breslinclearly admires the man's uncompromising faith in equal opportunity. Hisanecdote-filled biography closes with Rickey preaching to a young prospectabout the importance of education. "Stay with your education," Rickeyexhorts, "You can try baseball for a while and then you'll have collegehelping you for the rest of your life." The prospect was Mario Cuomo,future New York Governor.