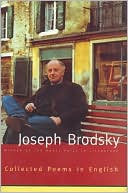 January 28: Joseph Brodsky died on this day in 1996, aged fifty-five. When he became the American Poet Laureate in 1991, Brodsky proposed a populist poetry initiative that might "turn this nation into an enlightened democracy … before literacy is replaced with videocy":
In my view, books should be brought to the doorstep like electricity, or like milk in England…. Barring that, poetry could be sold in drugstores (not least because it might reduce the bill from your shrink). At the very least, an anthology of American poetry should be found in the drawer of every room in every motel in the land, next to the Bible, which will surely not object to this proximity….
The idea triggered the American Poetry and Literacy Project, which since 1993 has distributed more than a million free books of poetry in schools, hotels, supermarkets and truck stops. Another spin-off is the Poetry in Motion program begun in 1992 by New York City's Transit Authority. One of their poster-poems was this untitled Brodsky couplet: "Sir, you are tough, and I am tough. / But who will write whose epitaph?" When a New York Times reporter called to ask about the meaning of these lines, Brodsky said that the "you" referred not to some political tyrant but to a fellow poet. He added that he had a less ambiguous couplet, "Lullaby for New York," which might go better on the city's trains and busses: "Buenas noches — / Don't mind the roaches."
There is no epitaph on Brodsky's grave, and soon there will be no grave. He is buried on Venice's 'Isle of the Dead' — San Michele Cemetery, where Ezra Pound is also buried. Due to crowding, bodies are only interred for twelve years, then moved to ossuaries. Perhaps this is as Brodsky wanted, or expected; below, his 1975 poem "Part of Speech":
…and when "the future" is uttered, swarms of mice

rush out of the Russian language and gnaw a piece

of ripened memory which is twice

as hole-ridden as real cheese.

After all these years it hardly matters who

or what stands in the corner, hidden by heavy drapes,

and your mind resounds not with a seraphic "doh",

only their rustle. Life, that no one dares

to appraise, like that gift horse's mouth,

bares its teeth in a grin at each

encounter. What gets left of a man amounts

to a part. To his spoken part. To a part of speech.
---
Daybook is contributed by Steve King, who teaches in the English Department of Memorial University in St. John's, Newfoundland. His literary daybook began as a radio series syndicated nationally in Canada. He can be found online at todayinliterature.com.