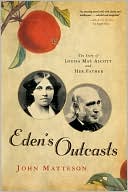 November 29:Bronson Alcott was born on this day in 1799, and Louisa May Alcott was born onthis day in 1832. Given the shared birthday and a nearly shared death day (hison March 4, 1888, hers two days later), the father-daughter relationship ismuch explored in the biographies. A common view is that Louisa May's writingwas partly an escape from, and then a practical solution to, her father'shigh-principled but naive projects. Some of these caused even the devoteddaughter to laugh, most famously in "Transcendental Wild Oats," heraccount of her father's enthusiasm for Fruitlands, the short-lived experimentin communal living which he co-founded with Charles Lane. In the followingexcerpt, Abel Lamb (Bronson Alcott) and his family are just arriving at their "prospectiveEden," accompanied by the more ferocious Timon Lion (Lane):
"There is our new abode," announced theenthusiast, smiling with a satisfaction quite undamped by the drops drippingfrom his hatbrim, as they turned at length into a cart-path that wound along asteep hillside into a barren looking valley.

"A little difficult of access," observed hispractical wife, as she endeavored to keep her various household goods fromgoing overboard with every lurch of the laden ark.

"Like all good things. But those who earnestly desireand patiently seek will soon find us," placidly responded the philosopherfrom the mud, through which he was now endeavoring to pilot the much-enduringhorse.

"Truth lies at the bottom of a well, Sister Hope,"said Brother Timon, pausing to detach his small comrade from a gate, whereonshe was perched for a clearer gaze into futurity.

"That's the reason we so seldom get at it, Isuppose," replied Mrs. Hope, making a vain clutch at the mirror, which asudden jolt sent flying out of her hands.

"We want no false reflections here," said Timon,with a grim smile, as he crunched the fragments under foot in his onward march.
In his Prologue to Eden'sOutcasts (2007), John Matteson quotes a contemporary poem which portraysBronson not as a hapless innocent but as a mirror reflecting heroic courage:
To the great, he is great; to the fool he's a fool—

In the world's dreary desert a crystalline pool

Where a lion looks in and a lion appears,

But an ass will see only his own ass's ears.
---
Daybook is contributed by Steve King, who teaches in the English Department of Memorial University in St. John's, Newfoundland. His literary daybook began as a radio series syndicated nationally in Canada. He can be found online at todayinliterature.com.