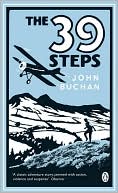 August 26: On this day in 1875, the lawyer-politician-writer John Buchan was born, in Perth, Scotland. Buchan wrote prolifically and in almost all genres, but he is best known for his spy-adventure novels, particularly the first of his Richard Hannay books, The Thirty-Nine Steps. Depending on its definition, some trace the spy genre back to The Spy (1821) by James Fenimore Cooper, or to Erskine Childers's The Riddle of the Sands (1903), but most literary historians give Buchan credit for the kind of espionage thriller—he called them "shockers"—that would eventually arrive at James Bond. The British reviewers of Fleming's first Bond book, Casino Royale, thought the plot "staggeringly implausible" but "thoroughly exciting," something that a "supersonic John Buchan" might write.
There is nothing sexy or smug in The Thirty-Nine Steps, but there is a galloping plot, a supervillain of malignant evil, flurries of deception and deduction, and of course pipe-smoking Hannay doing his Boys' Own best for Club and Empire, in the face of a predicament that has him "bottled as a pickled herring" from the start and seemingly doomed with just twelve hours to go:
Then suddenly I had an inspiration.

"Where is Scudder's book?" I cried to Sir Walter. "Quick, man, I remember something in it."

He unlocked the door of a bureau and gave it to me.

I found the place. "Thirty-nine steps," I read, and again, "Thirty-nine steps — I counted them—High tide, 10.17 p. m."

The Admiralty man was looking at me as if he thought I had gone mad.

"Don't you see it's a clue," I shouted….
The real staircase belonged to Buchan's friends, leading from their villa to the beach; when they replaced the original wood with metal, they gave him the last board with a brass plaque, "The Thirty-Ninth Step." Buchan died at sixty-four, by this time Lord Tweedsmuir of Elsfield and Govenor-General of Canada. His literary offspring go beyond fiction: his son William wrote, and his grandson, James Buchan, is an award-winning novelist and biographer.
---
Daybook is contributed by Steve King, who teaches in the English Department of Memorial University in St. John's, Newfoundland. His literary daybook began as a radio series syndicated nationally in Canada. He can be found online at todayinliterature.com.