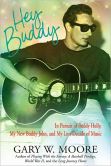 This is the fifty-fifth anniversary of "the day the music died," the Don McLean tribute lyric commemorating the deaths of Buddy Holly, Richie Valens, and J. P. "Big Bopper" Richardson in a plane crash near Clear Lake, Iowa, on February 3, 1959. Gary Moore's Hey Buddy is not a biography but "a personal journey — a search for the meaning of Buddy" today. Moore's quest begins dubiously, and at his wife's insistence:
We were going to drive more than three hundred miles from our home in Bourbonnais, Illinois, to Independence, Iowa to take my 77-year-old mother-in-law and her husband Bob to "The Winter Dance Party" at the University of Northern Iowa in Cedar Falls.
"What is the Winter Dance Party?" I asked.
"I'm not exactly sure. I think it's a Buddy Holly impersonator…."
Moore is soon swept up in Holly's life and the lives of those for whom Holly is still very much alive; and by journey's end, he is not only another pilgrim to Cedar Lake and other holy sites but another Holly impersonator:
Without asking why I was here, the bearded man did a half-turn and tilted his head. "This is the original stage," he began. "Buddy played here July of 1958 and made a lot of friends in town. They took him water skiing the next day."
I didn't know what to say, so for several seconds I didn't say a single word. In fact, the skin crawled on my arms. "How did you know why I was here?" I asked.
"You have that look about you," answered the bearded man. "They show up here all the time and always ask the same questions. They all want to know if that is the stage Buddy played on. Most ask if they can go up and stand there." He motioned toward the stage. "Go on."
---
Daybook is contributed by Steve King, who teaches in the English Department of Memorial University in St. John's, Newfoundland. His literary daybook began as a radio series syndicated nationally in Canada. He can be found online at todayinliterature.com.