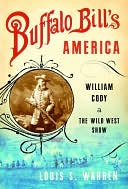 Buffalo Bill's Wild West show opened in London on this day in 1887. The show had been playing across the U.S. for several years, and the Ned Buntline dime novels about Bill Cody had been popular for several decades, but the London production marked the beginning of a wildly successful European tour and helped cement the impression that America was a gun-happy, cowboys-and-injuns culture.

The show's London run included a command performance before Queen Victoria. As told in Cody's Story of the Wild West, the queen's matinee, during which the Wild West standard bearer presented the American flag to her, represented a triumphant validation of and surrender to the American identity:
As the standard bearer waved the proud emblem over his head, Her Majesty rose from her seat and bowed deeply and impressively toward the banner. The whole court party rose, the ladies bowed, the generals present saluted, and the English noblemen took off their hats. Then — we couldn't help it — but there arose such a genuine heart-stirring American yell from our company as seemed to shake the sky. It was a great event. For the first time in history, since the Declaration of Independence, a sovereign of Great Britain had saluted the star-spangled banner, and that banner was carried by a member of Buffalo Bill's Wild West.
Cody's version of events seems about as close to what really happened as his Wild West show itself. In Buffalo Bill's America, Louis S. Warren quotes from contemporary press reports suggesting that, according to standing protocol, the American flag was lowered rather than raised before the queen, and that she nodded not in tribute to Yankee nation but in acceptance of its obeisance. But Cody's distortions made for good copy even back home, says Warren, where the Wild West publicity campaign worked the streets with images of the conquering cowboy-hero:
One 1895 poster, plastered across fences and walls from Waterville, Maine to Montgomery, Alabama, featured a blue map of the North Atlantic World, with ships and a red line demarcating the show's progress through western Europe, the "World's Wondrous Voyages" of the Wild West show. "From Prairie to Palace Camping on Two Continents Distance Travelled, 63,000 Miles, or nearly three times around the globe."…Two more posters depicted "Distinguished Visitors to the Wild West," with portraits and titles of each royal or official visitor…. At least one 230-square-foot billboard depicted Cody doffing his hat in gratitude for the adulation of European "Presidents, Pope and Potentates, Statesmen and Warriors."
---
Daybook is contributed by Steve King, who teaches in the English Department of Memorial University in St. John's, Newfoundland. His literary daybook began as a radio series syndicated nationally in Canada. He can be found online at todayinliterature.com.