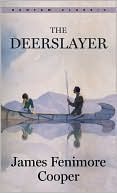 August 27: On this day in 1841 James Fenimore Cooper's The Deerslayer was published. This was the last-written of the five Leatherstocking novels, though it covers the earliest phase of the saga, that part wherein the twenty-three-year-old Natty Bumppo must pass his first tests in the wilderness, rise above the worst of paleface and redskin ethics, avoid being burned at the stake, return to Chingachgook his beloved Wah-ta!-Wah ("which rendered into English means Hist-oh!-Hist"), and, to the fetching Judith's despair, explain his devotion to his one true love:
She's in the forest — hanging from the boughs of the trees, in a soft rain — in the dew on the open grass — the clouds that float about in the blue heavens — the birds that sing in the woods — the sweet springs where I slake my thirst — and in all the other glorious gifts that come from God's Providence!
This sort of talk, and the taste for it among scholars and the reading public, so riled up Mark Twain that in 1895 he published an article entitled "Fenimore Cooper's Literary Offences." Twain found The Deerslayer guilty of breaking eighteen of his nineteen rules for romantic fiction, including Rule Three: "that the personages in a tale shall be alive, except in the case of corpses, and that always the reader shall be able to tell the corpses from the others." Twain wanted Cooper's entire Leatherstocking series to be renamed his "Broken Twig" books:
It is a restful chapter in any book of his when somebody doesn't step on a dry twig and alarm all the reds and whites for two hundred yards around. Every time a Cooper person is in peril, and absolute silence is worth four dollars a minute, he is sure to step on a dry twig. There may be a hundred other handier things to step on, but that wouldn't satisfy Cooper. Cooper requires him to turn out and find a dry twig; and if he can't do it, go and borrow one.
---
Daybook is contributed by Steve King, who teaches in the English Department of Memorial University in St. John's, Newfoundland. His literary daybook began as a radio series syndicated nationally in Canada. He can be found online at todayinliterature.com.