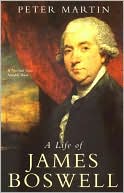 October 29: Onthis day in 1795 James Boswell died, aged fifty-four. Even without histwo-decade relationship to Samuel Johnson, Boswell would have a secure place inliterary history. This is due to the remarkable stash of journals, letters, andpersonal papers which he kept, and which his friends and relatives kept fromthe world. When Boswell's papers were discovered in the 1920s and '30s thejournals were eventually published in fourteen volumes, with one of these, his London Journal, now a million-seller.Other volumes of manuscripts, letters, and such documents continue to bepublished in scholarly editions issued by the "Boswell Factory" atYale University, which purchased most of the known hoard of Boswelliana in 1949for almost half-a-million dollars.
Johnson died at the end of 1784; Boswell's primaryoccupation over the next decade was in turning a mountain of notes, letters,and memories into his Life of Johnson.The writing was done in Boswell's Ayrshire mansion, where he had hoped to finda new "steadiness as laird of Auchinleck," thereby quitting the badhabits of his London life. The usual view is that his descendants and literaryheirs boxed and conveniently lost his personal papers because they too franklydocumented his failure to reform.
As Johnson put it, he was "without skill ininebriation" and addicted to "concubinage"; as his own journalslament, "Signor Gonorrhoea" came to visit a total of eighteen times.Entries for his first return to London after Johnson's death document a drunkennight in which he strayed into St. Paul's Churchyard singing ballads with twoprostitutes in red cloaks, got his pocket picked, and collapsed in the street.Other entries describe similar evenings with this or that "BetsySmith," one of them after attending the execution of nineteen criminals, aside-obsession with Boswell. Such passages are balanced by volleys of self-reproachand pledges to change, and vastly outnumbered by passages of greater interestand charm, but those who inherited Boswell's mountain of papers bundled fairand foul together in cabinets, trunks, attics, and barns, dispersing them tovarious parts of Ireland and Scotland.
---
Daybook is contributed by Steve King, who teaches in the English Department of Memorial University in St. John's, Newfoundland. His literary daybook began as a radio series syndicated nationally in Canada. He can be found online at todayinliterature.com.