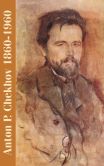 Anton Chekhov was buried on this day in 1904, some 4,000 escorting the casket on its four-mile procession across Moscow. Chekhov had died in a German spa town; his short stay there, like his longer stays in the Crimean resort of Yalta throughout his last years, were part of a lifelong battle with the tuberculosis that killed him at the age of forty-four. Most accounts of Chekhov's last months portray him as maintaining his customary wit and work ethic throughout a swirl of last ditch treatments — butter diets, Spanish fly compresses, a ban on bathing. "Chekhov could hardly walk, noises came from his chest," said one friend. "But he seemed not to notice. He was interested in anything but illness…. Why are such precious contents locked up in such a frail vessel?"
Maxim Gorky attended Chekhov's funeral and later described it as an outrage. His friend, "who squirmed at anything vile and vulgar," had been transported from Germany in a refrigerated railcar marked, "For Oysters." Part of the throng of mourners became confused by another funeral, that of an army general, and marched off to the strains of a military band. Among those who made it to the graveyard were many who "climbed trees and laughed, broke crosses and swore as they fought for a place. They asked loudly, 'Which is the wife? And the sister? Look, they're crying…." The family did not arrive until the procession was midway, and because students guarding the cortege didn't recognize them they had to force their way in.
But others have commented that the funeral scene was entirely Chekhovian, a moment of tragicomedy to go with his legendary and poignant death. Chekhov had been a doctor, and the custom among German and Russian doctors attending a colleague on his deathbed was to order champagne for the very end. After Chekhov reportedly sat up and said, in German, "I'm dying," he was offered a glass. After drinking it down, saying, "I haven't had champagne for a long time," he lay down on his side and died within seconds.
---
Daybook is contributed by Steve King, who teaches in the English Department of Memorial University in St. John's, Newfoundland. His literary daybook began as a radio series syndicated nationally in Canada. He can be found online at todayinliterature.com.