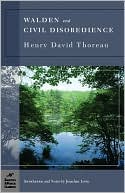 Henry David Thoreau left his Walden Pond cabin on this day in 1847, after a stay of two years, two months, and two days. Ralph Waldo Emerson bought the cabin from Thoreau and sold it to his gardener, who planned to make it his family home. He also had a drinking problem: the plans came to nought, and the cabin, one of the most enduring symbols in the American literary landscape, went through an ignoble devolution, one at which Thoreau would have chuckled. After two years of standing empty, the cabin was sold to a local farmer, who moved it across town and used it as a grain shed; over the next twenty years the roof was removed to build a pigsty, and the wall timbers were used first for a stable, and then to patch a barn, now long gone.

Thoreau himself moved into Emerson's house, as a sort of handyman-babysitter while Emerson was on a ten-month trip to England. The portrait that biographer Walter Harding paints of this period in Thoreau's life seems to correct the view that he was only and always a prickly contrarian:z
Thoreau's great joy was the children…. He would carry Eddy around on his shoulders, make pan's pipes for the girls from pumpkin stalks, onion tops, or willow shoots, or gather them all around the fire and tell them stories of the adventures of his childhood or of a duel between turtles he had observed on the river or of the battle of the ants he had seen at his Walden cabin. When they tired of stories, he would make pencils and knives disappear and redeem them magically from their ears….
Thoreau's book was a slow starter, but by Walt Whitman's time both it and the cabin site were famous. After a visit in 1881, Whitman noted, "On the spot in the woods where Thoreau had his solitary house is now quite a cairn of stones, to mark the place; I too carried one and deposited on the heap."
---
Daybook is contributed by Steve King, who teaches in the English Department of Memorial University in St. John's, Newfoundland. His literary daybook began as a radio series syndicated nationally in Canada. He can be found online at todayinliterature.com.