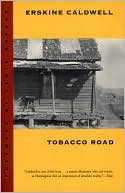 December 17: ErskineCaldwell was born on this day in 1903 in rural Georgia. The son of aPresbyterian minister, Caldwell often accompanied his father as he spread hisSocial Gospel among the farmers and blue collar workers of the American South.Both Tobacco Road (1932) and God's Little Acre (1933), Caldwell's twomost famous novels, combine generational poverty and fundamentalist, thoughoften bent, religion. In the excerpt below, from the end of God's Little Acre, the patriarch Ty Ty istrying to explain that his gold-digging obsession is based on more than money:
It ain't so important that I get money out of God's littleacre to give to the church and the preacher, it's just the fact that I set itup in His name. All you boys seem to think about is what you can see andtouch—that ain't living. It's the things you can feel inside of you—that's whatliving is made for. True, as you say, God ain't got a penny of money out ofthat piece of ground, but it's the fact that I set God's little acre aside outthere that matters.
But it was the sex and Caldwell's skill as a "master ofrural ribaldry" which made God'sLittle Acre an all-time bestseller, and which drew the wrath of censors andfellow southerners. Margaret Mitchell complained that Caldwell (and Faulkner)had cartooned their home, "betraying the South for Yankee dollars."Perhaps because he had written both his hit novels while living in Maine,Caldwell determined to prove that he had not imagined his portrait ofsharecropper poverty. During the middle years of the Great Depression he touredthe South with photographer Margaret Bourke-White, documenting sharecropperpoverty; when their collaborative photo-essay You Have Seen Their Faces was published in 1937 (three years beforeWalker Evans and James Agee published LetUs Now Praise Famous Men), it, too, was a bestseller.
Caldwell's autobiography describes Maine winters devoted tothe wood-stove and writing, nourished by dwindling supplies of potatoes and preserves.Perhaps imagining the heat and passions of home-state Georgia kept him warm:"Upstairs in my unheated workroom I wore a navy watch cap pulled down overthe ears, a sweater, a leather jerkin, and a padded storm coat while seated atmy typewriter. …The only sign of life would sometimes be seen on clear daysunder pale blue skies when an antlered moose tramped laboriously through thedeep snowdrifts."
---
Daybook is contributed by Steve King, who teaches in the English Department of Memorial University in St. John's, Newfoundland. His literary daybook began as a radio series syndicated nationally in Canada. He can be found online at todayinliterature.com.