(His 135th birthday is July 26.)
---
By Carl Jung and Aniela Jaffe
This autobiography was originally supposed to be a biography by Jaffe that Jung eventually got so involved with that he wrote large chunks of the book himself, such as about his childhood and travels in Africa. Jaffe wrote the rest from interviews, finishing up just before his death in 1961.
---
By Carl Jung
After an acrimonious falling out with pal Sigmund Freud in 1913, Jung started writing and illustrating this book during what he called his most important years when he developed many of his psychological theories. He finished it in 1930, but it wasn't published till 2009 with a reproduction of his handwriting.
---
By Herman Hesse
Jung's philosophies permeate many Hesse novels, such as Siddhartha and Demian. The German-Swiss author whose psychoanalyst was a student of Jung's combines autobiography and fantasy in his tenth novel, which was published in 1927. One of its main themes is the split between his compassion and his wolf-like aggression.
---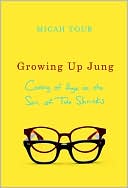 Growing Up Jung: Coming of Age as the Son of Two Shrinks
By Micah Toub
"Archetypically, as a Jungian would say, my coming-of-age story is just like yours," states Micah Toub in the introduction to his memoir about growing up the son of two Jungian therapists. And yet his parents' unbearably (and for the reader hilariously) idiosyncratic approach to parenting is anything but familiar, which is precisely what makes this childhood viewed through the lens of Jungian ideas and concepts so interesting.
---
Boundaries of the Soul: The Practice of Jung's Psychology: Revised and Updated
By June Singer
Joseph Campbell called it "the very best introduction to Jung around." It's gone through 13 printings and the newest revised edition contains pertinent developments of the last two decades, such as shifts in the use of psychotherapeutic drugs and how Jung's personality types are being applied in the business world.