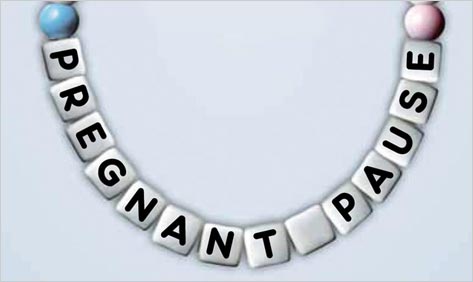 Eleanor Crowe, the fictional protagonist of Han Nolan's novel Pregnant Pause, the daughter of missionaries, likes smoking, drinking, and "base-jumping" (leaping off tall places with a parachute). She has, according to her boyfriend, Lam, "a cute way about her that guys like and girls are jealous of," not "dumb-pretty" but "smart-pretty, like sexy-lawyer pretty."

Gaby Rodriguez, the author of the memoir The Pregnancy Project, soon to be a Lifetime movie of the same name, lives in Toppenish, Washington, population 9,000, 75 percent Latino, with a casino and a discount movie theater where second-run movies cost $3; where 98 percent of the students at her high school qualify for free lunch and teens compete with their parents for jobs at Dairy Queen and Taco Bell, and in migrant labor.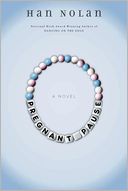 When Eleanor announces she is pregnant at sixteen, it is taken for granted that "her future" can't include a child until well after college and a suitable marriage. When Gaby, the youngest daughter of a woman who has seven children between the ages of fourteen and thirty-five, and thirty-one grandchildren by the time Gaby is in her early teens, does the same, it is greeted as the expected outcome for a girl like her.

Abortion isn't an option considered by either girl: "[M]y parents would more likely kill me if I had an abortion than if I were just pregnant, because that's very against their religion," says Eleanor (emphasis mine). Gaby, who describes herself as "very pro-life" says she "really had no idea what Planned Parenthood did" until she walks into their office at sixteen; after reading their literature, she decides it is "designed to make girls feel okay about getting abortions." But while Eleanor's pregnancy is real, Gaby's is not: As part of her senior project, she decided to fake a pregnancy, with the help of her boyfriend, Jorge, her mother, the school superintendent, and a belly sculpted from clay and padded with fabric.

Each girl faces both stereotypes and discrimination; some quite similar, others inflected by each girl's very different class and cultural expectations. Although Eleanor's parents work with African AIDS orphans as their life's work, they see their daughter's pregnancy as shameful. Eleanor and Lam marry, are given summer jobs at the camp his parents run to force obese children to lose weight, and are paid with lodging in a "one-room cabin heated with wood, with the kitchen up the hill in the main house, and the bathroom a hornet-infested latrine six cabins away" — not exactly comfortable for a pregnant woman who visits the latrine several times a night. As part of the deal, Eleanor has to "pretend I'm twenty (yeah, lying — what a great example), and we have to be married and pretend the marriage came before the baby, so it doesn't look like I got knocked up by accident or anything." Another counselor, Jen, mocks her for her perceived stupidity about birth control and alleged sluttiness — though she's got where she is with one partner and a broken condom — and informs her, "If I had a baby, my dreams would just go down the toilet."

Although Eleanor herself is seen as damaged goods, her baby — assumed to be that much-sought-after commodity, a white, healthy infant — is much in demand. Lam's parents, who lost a child in infancy, want to raise the child as their own; her parents would like her to give the baby to "perfectly prim, older sister, Sarah — just hand it over like a sack of potatoes." After all, says Sarah, "We're young and we live in a beautiful home."

Nolan ends her novel with a surprising but very satisfying and believable twist that profoundly underscores the idea that demanding "perfection" in parents or children can be its own fatal flaw, and that sometimes passion, determination, and a woman's connection to her own child can mean more than a perfectly groomed nursery.


While many of Gaby Rodriguez's friends and family decide her teenage pregnancy is unremarkable — "they're used to teen moms," says one classmate to her best friend — it is likewise assumed that she has "ruined her life." Gaby points out, "Pregnant or not, I was still in school and getting great grades. I was in the top 5 percent of my class, with a 3.8 grade point average. With everything they knew about me, why would they be so quick to write me off as another statistic?… Didn't they believe in me enough to know that, even if I were pregnant, I'd still find a way to go to college and achieve my dreams for me and my baby?"

Although young mothers are statistically less likely to finish high school and go to college, it may be comparable, she says, to the four-minute mile, which was once thought to be an impossible goal for a runner. But within three years after the first runner came in at four minutes, sixteen others did the same. Why not see the academic plans of women like say, President Obama's mother — who earned a doctorate and raised two children, one of whom became president — as "the four-minute mile of teen pregnancy?"

Gaby removes her fake stomach at an assembly in front of all her classmates and a single local reporter. By the next morning, her story has spread across the wires, and she's fielding competing offers from Good Morning, America and the Today show, culminating in a contract for said Lifetime movie and this very memoir, helped along by credited ghostwriter, Jenna Glatzer. At the assembly, she writes, there were "about seven girls" who were actually pregnant. "I hoped they would know I wasn't trying to embarrass them or betray their trust," she writes, "but that I was honestly trying to give them a voice."

Gaby Rodriguez is sharp and compassionate; no one could credibly accuse her of naiveté or the desire to exploit teen parents, with whom she is intimately familiar through her family and community. But one can't help but wonder why outsiders saw her — a teen who could have been pregnant but ultimately was not — as such an extraordinary mouthpiece for understanding teen mothers. Might it have more than a little to do with exactly the kind of prejudice she described in her book? No one was clamoring to interview her when she was one of eight presumed teen mothers at the school. Why did it take revealing she was not a teen mother for her to gain the authority to "give a voice" to those who were?

The Pregnancy Project, in this light, brings to mind Black like Me, the 1961 book by John Griffin, a white man who impersonated a black man in order to describe the prejudice he encountered in the South. In part, the revelation comes from seeing how the exact same person can be treated so differently, depending on the circumstances. But at the time, Griffin surely benefited in part from white readers who conferred more authority on a white author. One can't help but wonder if Rodriguez similarly gained moral authority to talk about a group of women who experience prejudice once it was established she was not a member of the group. In her book, she quotes a teen mother on a message board who writes: "When you get pregnant as a teenager, a lot of people give up on you and treat you like garbage, no matter how smart or nice or hard-working you were before. Nobody wants to 'encourage teen pregnancy' so they feel it's their duty to make you suffer." That writer remains anonymous.