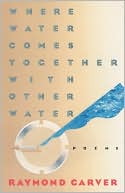 Raymond Carver died on this day in 1988, aged fifty. Although Carver's stories are ranked far above his poems, he published a half-dozen collections of poetry and spent what he knew to be his last months on a new one. The titles of most of the collections and many of the poems refer to creeks, streams, and rivers, reflecting Carver's passion for not jut fishing and the outdoors but "the holy places" described in the birthday poem "Where Water Comes Together with Other Water." As do a number of the last poems, the closing lines of "Where Water Comes Together with Other Water" allude to Carver's gratitude for his relationship with his second wife, Tess Gallagher:
I'm 45 years old today.
Would anyone believe it if I said
I was once 35?
My heart empty and sere at 35!
Five more years had to pass
before it began to flow again.
I'll take all the time I please this afternoon
before leaving my place alongside this river.
It pleases me, loving rivers.
Loving them all the way back
to their source.
Loving everything that increases me.
One of Carver's friends and colleagues at Syracuse University was Hayden Carruth, born August 3, 1921. Carruth's poem "Ray" begins with him sitting at his kitchen table eating pie at one-thirty in the morning, just having finished reading Carver's last book of poems; below, Carruth's closing lines:
…What crazies we writers are,
our heads full of language like buckets of minnows
standing on the moonlight on a dock. Ray
was a good writer, a wonderful writer, and his
poems are good, most of them, and they made me
cry, there at my kitchen table with my head down,
me, a sixty-seven-year-old galoot, an old fool
because all old men are fools, they have to be,
shoveling big jagged chunks of that ordinary pie
into my mouth, and the water falling from my eyes
onto that pie, the plate, my hand, little speckles
shining into the light, brightening the colors, and I
ate that goddamn pie, and it tasted good to me." 
---
Daybook is contributed by Steve King, who teaches in the English Department of Memorial University in St. John's, Newfoundland. His literary daybook began as a radio series syndicated nationally in Canada. He can be found online at todayinliterature.com.