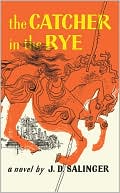 July 16: On this day in 1951 J. D. Salinger's The Catcher in the Rye was published. Even before Salinger's recent death, collectors regarded a good, signed, first edition of Catcher in the Rye as "one of the most elusive of 20th-century books," if not "the Holy Grail of modern collecting." One of the few signed copies offered for sale over the last few decades was inscribed by Salinger to Harold Ross of The New Yorker. Ross published many of Salinger's stories in his magazine, including "Slight Rebellion Off Madison," which was the first appearance of Holden in print. The 1941 story was the basis of the Sally Hayes sections of Catcher in the Rye, and the first indication of where Salinger's own slight rebellion might lead:
…But it isn't just that. It's everything. I hate living in New York. I hate Fifth Avenue buses and Madison Avenue buses and getting out at the center doors. I hate the Seventy-second Street movie, with those fake clouds on the ceiling, and being introduced to guys like George Harrison, and going down in elevators when you wanna go out, and guys fitting your pants all the time at Brooks." His voice got more excited. "Stuff like that. Know what I mean? …Look, Sally. How would you like to just beat it? Here's my idea. I'll borrow Fred Halsey's car and tomorrow morning we'll drive up to Massachusetts and Vermont and around there, see? It's beautiful. I mean it's wonderful up there, honest to God. We'll stay in these cabin camps and stuff like that till my money runs out….
Salinger made his escape to New Hampshire in 1953, and for the next half-century proved as elusive as his signed first editions. Among the mostly foiled, would-be biographers was Ian Hamilton; undeterred by the frustrations documented in In Search of J. D. Salinger (1988), Hamilton went on to publish Keepers of the Flame: Literary Estates and the Rise of Biography from Shakespeare to Plath (1992), which tells some two dozen tales of scholarly and biographical misadventure.
---
Daybook is contributed by Steve King, who teaches in the English Department of Memorial University in St. John's, Newfoundland. His literary daybook began as a radio series syndicated nationally in Canada. He can be found online at todayinliterature.com.