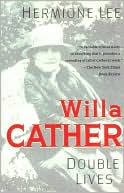 Willa Cather was born on this day in 1873. A few weeks after her twenty-third birthday, in her weekly column for the Nebraska State Journal, Cather gave this notice of what biographer Hermione Lee calls her "ruthless drive towards independence, her ambitiousness, her resilience and adventurousness":
O, yes; of course it's unwomanly to do anything well, and it's shockingly unwomanly to be great. But it would be a dull old world if a few women were not unwomanly to that degree. And while these strong women, these Brunnhildes, go out and fight with fate, and with art that is so much more relentless than fate, their amiable sisters sit back behind a fortification of cradles and tea-towels and carp at them!
But Lee's biography is subtitled "Double Lives": "In all her writing there was to be a seesaw battle between the epic and quotidian, the heroic and the domestic, the 'unwomanly' and the 'womanly.' " In novels such as O Pioneers! (1913), the first part of Cather's Prairie Trilogy, the battle is played out within Alexandra Bergson, who must reconcile her desire for wider horizons with her need to stay rooted in the land. In a 1923 essay titled "Nebraska: The End of the First Cycle," Cather hopes that Alexandra's descendants will find the right sort of compromise between following the plow and riding the fast lane:
In Nebraska, as in so many other States, we must face the fact that the splendid story of the pioneers is finished, and that no new story worthy to take its place has yet begun…. The generation now in the driver's seat hates to make anything, wants to live and die in an automobile, scudding past those acres where the old men used to follow the long corn-rows up and down. They want to buy everything ready-made: clothes, food, education, music, pleasure. Will the third generation — the full-blooded, joyous one just coming over the hill — will it be fooled? Will it believe that to live easily is to live happily? Surely the materialism and showy extravagance of this hour are a passing phase. They will mean no more in half a century from now than will the "hard times" of twenty-five years ago — which are already forgotten.
---
Daybook is contributed by Steve King, who teaches in the English Department of Memorial University in St. John's, Newfoundland. His literary daybook began as a radio series syndicated nationally in Canada. He can be found online at todayinliterature.com.