It's hard to pick just five of William Steig's enchanting books, but that didn't stop us from trying.
---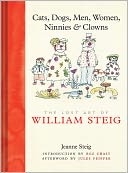 Cats, Dogs, Men, Women, Ninnies & Clowns
By Jeanne Steig
Cartoonist and illustrator William Steig charmed readers all over the world with his delightfully warped worldview, and this new collection gathers 450 never-before-published drawings unearthed by his widow from the remarkably prolific artist's career. Here you'll find the offbeat characters — animals, inanimate objects, unabashed oddballs — that made Steig's cartoons for The New Yorker so popular and his children's books welcome additions to a genre too often awash in treacle. Jeanne Steig, herself a sculptor, provides personal insights about her late husband's art as well as their unique creative relationship; Roz Chast contributes the introduction.
---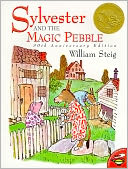 Sylvester and the Magic Pebble
By William Steig
When Sylvester, a frivolous donkey, discovers a magic pebble that will grant his every wish, he thinks he's set for life. But a frightening encounter with a ferocious lion startles Sylvester into making a disastrous wish. How will he reunite with his family? This was the children's book that catapulted Steig into the literary firmament, winning the Caldecott Medal. A new edition, featuring restored watercolor artwork and Steig's Caldecott acceptance speech, is the perfect reminder of why Steig's unique blend of the wildly imaginative and genuinely heartfelt continues to resonate today.
---
By William Steig
One of Steig's most mischievious and amusing tales, Doctor De Soto is the story of a mouse dentist who treats all animals — whether big, small, silly, or scary — with the help of his caring wife. But when a particularly hungry patient insists that the good Doctor climb into his mouth to minister to him, De Soto must outfox his adversary or risk being devoured. Steig won the Newbury Honor Award for this toothsome entertainment, which spawned further adventures in Doctor De Soto Goes to Africa and several animated TV specials.
---
By William Steig
Upon concocting a magic potion, young frog Gorky retreats to Elephant Rock, "his best spot for doing nothing", to take a nap. But when he awakes, he's floating high above the earth, clutching his potion. Now he must outwit the powerful magic he's conjured to get home. Steig's spacey, out-of-this-world narrative offers the cartoonist exciting opportunities to paint nightscapes that eschew his usual palate of grass-green and pig-pink, freeing him to explore his far-reaching talents. But the wonders of Gorky's voyage are tempered by a familiar desire to return to our loved ones.
---
By William Steig
Perhaps Steig's best-known creation, Shrek is an ogre who revels in all things disgusting, upsetting, and most of all, ugly. But can someone so wretched find true love? Long before the name and storyline of this compact masterpiece were used as the basis for a significantly transformed film, Steig's most anarchic comedy — with its glee in Shrek's awfulness at the center — made kids happy to be different, overjoyed to act repulsive. Sporting a stare that makes "peasants carrying pheasant presents" faint, and a stench that wilts roses, Shrek continues to find his way into readers' hearts. No animation required.