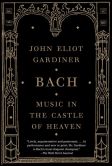 "This is what I have to say about Bach's life's work: listen, play, love, revere — and keep your trap shut." —Albert Einstein, about Johann Sebastian Bach, born on this day in 1685.
In the Preface to his highly praised 2013 biography, Bach: Music in the Castle of Heaven, the British conductor-historian John Eliot Gardiner acknowledges that Einstein had a point, but not one preemptive of Gardiner's approach to the composer's "unfathomable genius." Gardiner's book attempts "to give the reader a sense of inhabiting the same experiences and sensations that Bach might have had in the act of music-making" — even if those sensations send us to the heavenly castle by way of the aquatic deep. "Imagine," writes Gardiner, "what it feels like to stand chest-deep in the ocean waiting to snorkel":
What you see are the sparse physical features visible to the naked eye: the shore, the horizon, the surface of the sea, maybe a boat or two, and perhaps the bleached outline of fish or coral just below, but not much else. Then don your mask and lower yourself into the water. Immediately you enter a separate, magical world of myriad tints and vibrant colours, the subtle movement of passing shoals, the waving of sea anemones and coral — a vivid but wholly different reality. To me this is akin to the experience and shock of performing Bach's music — the way it exposes to you its brilliant colour spectrum, its sharpness of contour, its harmonic depth, and the essential fluidity of its movement and underlying rhythm. Above water there is dull quotidian noise; below the surface is the magical world of Bach's musical sounds.
Daybook is contributed by Steve King, who teaches in the English Department of Memorial University in St. John's, Newfoundland. His literary daybook began as a radio series syndicated nationally in Canada. He can be found online at todayinliterature.com.