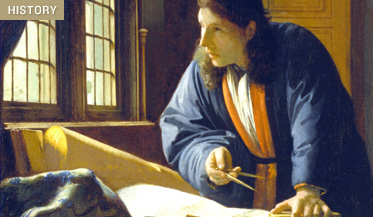 Notwithstanding the familiar rhyme "In 1492, Columbus sailed the ocean blue," a quarter of American teenagers in a recent survey thought that Christopher Columbus sailed to the New World sometime after 1750. Without benefit of a national holiday to rival Columbus Day, French explorer Samuel de Champlain's name and exploits are surely unfamiliar to many more, young and old alike. Among historians, however, he is no obscure footnote. Even before Champlain's death in 1635, much ink was devoted to him in accounts of the founding of New France in North America.

Champlain's Dream, David Hackett Fischer's enormous and often enthralling biography, reflects the author's acute awareness of the weight of history resting on his subject, and a desire to reclaim him from both hagiographers and the "popular debunkers and academic iconoclasts" who, particularly with respect to Champlain's dealings with American Indians, have painted him darkly. Fischer, the author of several fine American histories, won a Pulitzer Prize in 2005 for Washington's Crossing, his account of the period surrounding George Washington's traversing of the Delaware River in 1776. He turns the same exhaustive research and narrative flair he exhibited in that work to his tale of the "Father of New France," a man with the tenacity of a pit bull, the grace and eloquence of a courtier, and the astonishingly good luck (much of which he manufactured himself) to live through several brushes with death as he kept his dream of a permanent colony afloat. The descendants of the settlers he brought to Quebec live throughout North America today.

Little is known of Champlain's early life in a small town on France's Atlantic coast. The year of his birth, which Fischer pegs as 1570, is disputed. Fischer suspects that Champlain was baptized a Protestant, but he emerged a Catholic, and his faith was a driving motive in his work to colonize New France and convert its natives to Christianity. Champlain's family were flourishing merchant seafarers, and Champlain took to the water at a young age, learning to sail so well that he made 27 transatlantic voyages in his lifetime without losing a single ship. "All his life," Fischer writes, Champlain "had an optimistic way of thinking about the world, an attitude that comes easily to people whose families have been moving up."

Some have speculated that Champlain was actually an illegitimate son of King Henri IV, the hard-loving monarch who was for Protestantism before he was — nominally — against it, and who as a Catholic established a policy of religious tolerance that restored peace to France after decades of cruel religious wars. In any case, Champlain had a close relationship with the king and fought for him as a young soldier, witnessing the bloodshed that resulted from forcing faith. His tolerant design for New France enjoyed the support of Henri (until the king's assassination in 1610) and of Louis XIII when the boy came of age. But Queen Regent Marie de Medici and the powerful Cardinal Richelieu did not back him, and, in Fischer's account, Champlain is always rushing back from the New World to the Old (each voyage lasting a few weeks at the least) to rebuild coalitions among the powerful and the wealthy. Champlain's was by no means a solo act — there was always a figurehead viceroy back in France, and others played key roles; still, Fischer places Champlain at the center of New France.

Champlain got his first glimpse of the New World in 1599, after seizing the opportunity to travel to the Spanish empire as a spy of sorts. He appears to have been profoundly affected by the abusive treatment of American Indians and African slaves he saw in the West Indies and Mexico. Once he returned home, Champlain studied France's several failed 16th-century settlements in the New World. He was compulsive about collecting information, a trait that served him well in an occupation in which bad preparation was a leading cause of death. When in 1603 a French exploratory expedition formed, Champlain secured an invitation to go along as an observer for Henri.

For the next three decades, Champlain founded and oversaw settlements in the area then known rather fancifully as Acadia — which included the coasts of present-day Nova Scotia, New Brunswick, and some of Maine — as well as Quebec, which he established on the St. Lawrence River in 1608. In 1629 the English captured Quebec, threatening everything Champlain had built. Until a treaty restored New France, Champlain was outraged to see the English disregard the region's French place names — he himself christened numerous landmarks, including the lake that still bears his own name.

Getting any kind of permanent purchase on American soil was extraordinarily difficult. Scurvy decimated the inhabitants of Sainte-Croix Island, the first settlement Champlain collaborated on. Winters were brutal, and whatever settlers needed had to be laid in beforehand or done without until a relief ship arrived in the spring with supplies (everything from live sheep and pigs to table salt and enough wine for generous daily rations). Rogue fur traders and fishermen constantly imperiled the trade monopoly that was the colonies' main source of funding: French merchants invested in Champlain's New World settlements on the promise of having the whole pie to themselves.

Central to the American project was France's relationship with the vast domain's many Indian tribes. The overarching theme of the book is Champlain's dealings with them, and here Fischer betrays himself. He is not the disinterested historian he paints himself in the introduction, his inquiry untainted by "a thesis, or a theory, or an ideology," but a passionate — and mostly convincing — advocate for Champlain against those who have charged him with ethnocentrism and exploitation. From the start, Champlain set a policy of tolerance and amity toward the Indians that was no mere show — he admired and enjoyed them, even as he sought to convert them to Christianity and bemoaned their horrific torture of captives and their lack of effective authority, which was especially puzzling to a man loyal to God and king.

Fischer makes much of the fact that immediately after Champlain arrived in New France in 1603, he and his ship's captain visited a large assembly of Indians celebrating a victory over the Iroquois. It was the first of many occasions throughout Champlain's career when he walked into Indian camps without fear or an agenda more specific than making friendly contact. He frequently arranged for exchanges of Frenchmen and Indians so that each could spend months, even years, learning the language and ways of the other. (Champlain himself never learned more than pidgin speech, and relied on translators.) This approach was sharply at odds with that of the Spanish, the English, and his own more rigid countrymen. Indians rewarded him with their trust, their trade, and, on his death, moving tributes.

But in forming alliances with some, Champlain became the enemy of others — notably, the fierce Iroquois, against whom he fought in three major campaigns in an effort to draw a line in the sand that would keep the peace (he bore scars on his ear and neck from an Iroquois arrow). Fischer argues that Champlain's efforts were in large degree successful in creating, for a time, an uneasy order, and were not so misguided as they have been painted by skeptics.

Only at a few uncomfortable moments does Fischer come off as an apologist for his subject. Champlain may only have meant "forest-dweller" when he referred to New France's native inhabitants as "savages," but it's hard to see "nothing racist in his thinking" in his reflection on their retaliatory code of justice: "They have one evil in them, which is that they are given to revenge, and are great liars, a people in whom it is not well to put confidence, except with reason and with force at hand. They promise much and perform little." It is possible to admire Champlain — perhaps even all the more — if we concede that, as enlightened as he was, he may not have been entirely free of the prejudices that infected his age.

Always mindful that his efforts in America were only as good as their publicity, Champlain published several detailed written accounts and exquisite maps of the New World. Fischer uses these rich sources to dramatic effect as he retraces Champlain's journeys. His biography moves along swiftly, providing history lessons where necessary, but hewing to the suspenseful and engaging tale of how this man who charmed Indians and aristocrats alike persevered in his dream of creating a peaceful new world.

As Fischer notes, we know little of Champlain's private ruminations or personal life, including his late marriage to a young girl of an influential family. His papers were lost after his death. What history has preserved is a man of action, who didn't live to see the wars he had sought to avoid and the diseases settlers spread change the human geography of New France, a land so full of promise that his imagination seemed forever expanding to fathom it.