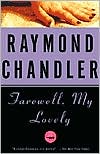 Raymond Chandler's Farewell, My Lovely was published on this day in 1940. Like Chandler's first Philip Marlowe novel, The Big Sleep, this second book did not sell, despite splashy ads placed in major newspapers by his publisher, Knopf. In letters written at the time, Chandler wonders at the possible reasons—the war, the reviewers lumping him with the other hard-boilers and their worn-out formula. In his letters to Blanche Knopf, Chandler also wonders if his novel's title was part of the problem. She had disliked the title, though she found Chandler's other two suggestions, The Second Murderer and 'Zounds, He Dies, worse. With the postmortems over, and confident that "I am not innately a hack writer," Chandler went back to work. Just like his hero, at this point holed up in a cheap hotel with nothing but loose ends for company:
I thought of dead eyes looking at a moonless sky, with black blood at the corners of the mouth beneath them. I thought of nasty old women beaten to death against the posts of their dirty beds…. I thought of beautiful rich women who could be had. I thought of nice slim curious girls who lived alone and could be had too, in a different way. I thought of tough cops that could be greased…. Fat prosperous cops with Chamber of Commerce voices…. I thought of a lot of things. It got darker. The glare of the red neon sign spread farther and farther across the ceiling. I sat up on the bed and put my feet on the floor and rubbed the back of my neck.

I got up on my feet and went over to the bowl in the corner and threw cold water on my face. After a little while I felt a little better, but very little. I needed a drink, I needed a lot of life insurance, I needed a vacation, I needed a home in the country. What I had was a coat, a hat and a gun. I put them on and went out of the room.
* * *

E. B. White died on this day in 1985. White liked "Farewell, My Lovely" so much as a title that he used it for one of his New Yorker pieces—in 1936, four years before Chandler's novel appeared. White's lovely, with whom he admits a lifetime romance, was the Model T Ford:
My own generation identifies it with Youth, with its gaudy, irretrievable excitements; before it fades into the mist, I would like to pay it the tribute of the sigh that is not a sob, and set down random entries in a shape somewhat less cumbersome than a Sears Roebuck catalogue….
---
Daybook is contributed by Steve King, who teaches in the English Department of Memorial University in St. John's, Newfoundland. His literary daybook began as a radio series syndicated nationally in Canada. He can be found online at todayinliterature.com.