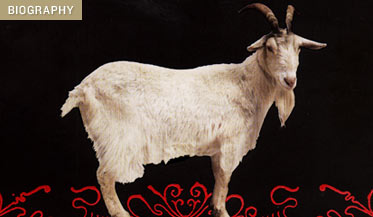 What could be more American than the Whopper? Burger King's flagship sandwich isn't just loaded with fat, the most patriotic of all calories. Its very name embodies the twin American obsessions: size and lies.

Dr. John R. Brinkley led a whopper of an American life, one overflowing with untruth. He started with an early apprenticeship in an anatomical museum that existed to sell fraudulent health tonics. By 1917, he had a questionable medical degree and his own gimmick: he claimed to restore men's virility by surgically implanting goat testicles into their bodies. In Charlatan, Pope Brock entertainingly recounts the places that this scheme took Dr. Brinkley: not just to his clinics in Kansas, Texas, and Arkansas, but into the worlds of politics, radio broadcasting, country music, and the rich and powerful.

Brinkley opened his first clinic in Milford, Kansas, claiming that augmenting your own testicles with those of an unfortunate goat was good for what ailed you. He charged a steep $750 and did booming business, ultimately owning his own radio station, all the better to tout the virtues of gland implants. Brinkley became fabulously wealthy and lived like he was waiting for MTV to invent Cribs: whenever he repainted the mansion on his 16-acre property in Del Rio, Texas, he would repaint his fleet of a dozen Cadillacs to match the house. When Brinkley sailed his yacht (he owned three in succession — the last and largest had a crew of 21) to the Bahamas, he became friends with the Duke and Duchess of Windsor (better known as the abdicated King Edward VIII and Mrs. Wallis Simpson).

Brinkley's patients — or victims — didn't fare so well. If they were lucky, they just went home with less money in their pockets. Others left with blood poisoning or festering wounds; dozens died at the clinic from Brinkley's butchery. Brinkley was not the only questionable doctor touting vigor borrowed from animals. Many doctors on the fringes of early-20th-century medicine were trying to find some way to exploit the power of glands; when people believed that monkey glands might provide an injection of youth, the price of chimpanzees shot up 600 percent. They were correct that there was power in glands if utterly misguided in how to access it. These medical follies eventually led to the isolation of testosterone — and ultimately to modern steroids and congressional hearings on Roger Clemens.

Brinkley's story is still largely unknown, despite his being the subject of several books, including a pair of academic-press volumes from 2002: R. Alton Lee's Bizarre Careers of John R. Brinkley and Eric S. Juhnke's Quacks and Crusaders. Brock has done considerable original research for Charlatan, although he also draws heavily on Gerald Carson's 1960 volume, The Roguish World of Dr. Brinkley.

Where Brock really outdoes his predecessors is with the story of Dr. Morris Fishbein, who served as editor of the Journal of the American Medical Association and played Inspector Javert to Brinkley's Valjean. Following Brinkley from state to state over the decades, the crusading Fishbein convinced various local authorities to revoke Brinkley's medical license and ultimately baited him into suing for libel, a decision that proved ruinous to Brinkley. Fishbein also rubbed elbows with a more cynical crew of celebrities: H. L. Mencken, Sinclair Lewis, and Eugene Debs.

Brock's prose tends toward the purple, and sometimes he strains to make his narrative fit with his designated themes. Consider this early passage: "What this meant for Brinkley and Crawford, as they plotted the future, was that the old tonic wheeze would no longer suffice. They needed something with more snap, more pizzazz, something worthy of the age of Edison." Of course, Brinkley and his conspirator were not scheming a way to better embody the tenor of the times or hoping to fit into some future sociological overview of the era — they were just looking for a good scam.

Brinkley's life went in so many directions, Brock sometimes provides only a quick gloss on its most fascinating aspects. Take Brinkley's two campaigns for Kansas governor, in 1930 and 1932. They were full of drama and innovation: Dr. Brinkley was groundbreaking in his use of an airplane to travel around the state — and when he wasn't in the air, he was on the air, making powerful use of the new medium of radio. The 1930 election ended with a photo-finish victory of the Democrat over the Republican, with tens of thousands of disqualified write-in ballots for the independent Brinkley. The Republican candidate declined to ask for a recount, afraid that Brinkley might end up with the victory instead. This story is as compelling as the 1948 Texas senatorial election, which provided the meat of the 592-page Means of Ascent, the second volume of Robert A. Caro's brilliant LBJ biography. Brock disposes of the 1930 and 1932 gubernatorial campaigns in chapters of nine and eight pages, respectively.

Much more satisfying is Charlatan's treatment of Brinkley's radio career. In 1930, his KFKB station ("Kansas First, Kansas Best") was the most popular radio station in the United States. His license was pulled by the Federal Radio Commission (the forerunner of the FCC) the same year, for excessive advertising and general obscenity. (The latter charge came because in Brinkley's "Medical Question Box" program, he not only handed out bad medical advice but routinely used words such as "erection.") After he sold KFKB to a Wichita insurance company, he went down to Mexico and spent $350,000 to erect two
300-foot towers that broadcast the first "border blaster" radio station, XER. By 1932, he was broadcasting on a million watts, making XER the world's most powerful radio station by far.

Brock writes: "A technician there now reported that the transmitter 'makes the hair on your arms stand up.' Locals said the signal was so strong it turned on car headlights, made their bedsprings hum, and sent Brinkley's voice wandering in and out of other people's telephone conversations?. A Montreal station two thousand miles away reported chronic interference from XER. On clear nights Brinkley reached Alaska, skipped across to Finland, was picked up by ships on the Java Sea. In later years Russian spies reportedly used the station to help them learn English."

Aside from pushing the virtues of goat testicles, XER (which Brinkley later renamed XERA) played a lot of country and Tex-Mex music. In Arkansas, a young Johnny Cash was listening — and hearing not only the music but also the voice of his future wife June Carter. Just ten years old, she was singing on XERA with the Carter Family.

Things didn't end well for Brinkley. He became enamored of the Nazis, who were drawing on the same techniques of mass manipulation as he was. Brinkley even redecorated his swimming pool with red swastikas. He lost his radio station and his medical license; in 1941, he declared bankruptcy. After a heart attack, his health declined quickly; he died in 1942.

Despite Charlatan's subtitle, the "age of flimflam" didn't end sometime in the middle of the 20th century. Brinkley and his peers merely presided over the dawn of flimflam. In today's world, advertising is ever more lurid and emotional. Government initiatives such as the Clear Skies Act have effects diametrically opposed to their names. The golden age of flimflam? We're living in it, here in the home of the whopper.