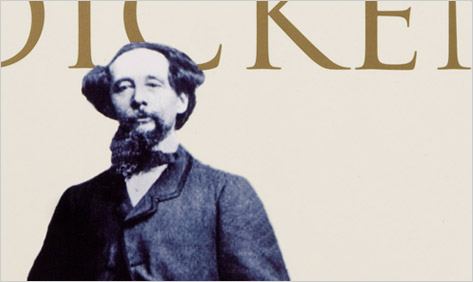 The most illuminating moment in Michael Slater's revelatory Charles Dickens comes in a marvelous quotation from Fyodor Dostoevsky, who met with Dickens in the offices of the latter's periodical All the Year Round, during an 1862 visit to London. The great English novelist unburdened himself in an almost confessional style: "All the good simple people in his novels, Little Nell, even the holy simpletons like Barnaby Rudge, are what he wanted to have been," his Russian visitor reported later, "and his villains were what he was (or rather, what he found in himself), his cruelty, his attacks of ceaseless enmity toward those who were helpless and looked to him for comfort… There were two people in him, he told me, one who feels as he ought to feel and one who feels the opposite." Perhaps uniquely, Dostoevsky was up to the task of responding, asking impishly: "Only two people?" *
And yet it is hard to avoid the conclusion that, for all the human variety contained within Dickens's crowded fictions, and for all the myriad energy of his achievements — that groaning shelf of novels and short works, the social crusades, magazines founded and edited, colleagues brought up under his wing, and the invention of the novelist's reading as a public event — Charles Dickens was only one person: a writer. Speaking to a colleague about another of the magazines he edited, he tellingly confused "Charles Dickens" with what came out of his pen: "I diffuse myself with infinite pains through Household Words and leave very few pages, indeed, untouched." In his own eyes he seems to have been something of a well of his own style and sensibility, his soul an inky liquid to be pumped out onto manuscript sheets.
This close connection has been made clear for generations of readers, of course, by the way the author drew on his own childhood — years marred by his prodigal father's debt, which subverted his middle-class education and replaced it with a stint working in a factory at the age of twelve — in novels like David Copperfield and Little Dorrit. But the version of Dickens as the inventor who turned his early suffering into enduring fictions doesn't much help prepare one to take in the scope of Dickens's intertwined life and life's work, which brought him a level of individual celebrity that went nearly unrivalled by a novelist until the advent of J.K. Rowling.
Slater's long-anticipated biography of the writer, thankfully, makes just such perspective possible — though, at the rate its 600-plus pages sail by, one could be forgiven for failing to remark it. Though the author is an eminent scholar of his subject, his deep dives into archival materials never result in academically dehydrated findings. Instead, we get thrilling access to the life Dickens lived as it poured out onto the page. Dickens's private letters, his many minor articles, short stories, sketches, and editorial notes — all are made to speak in the service of Slater's fully animated portrait. The result is so lively and so packed with fascinations that one scarcely notices the heft of the research behind it.
The commercial and the artistic mingled indiscriminately in Dickens. Even as his career as a novelist was taking off, he couldn't turn down the offer to edit (and in the end, rewrite) the memoirs of the famous stage clown Joseph Grimaldi — turning "twaddle" as he called it, into readable prose. Students are still asked to read Great Expectations with an eye to theme and structure; what would they make of the fact that the novel, originally planned to be written in expansive and leisurely monthly segments, was hastily re-conceived as a weekly serial to run in All the Year Round, when the meandering work of another contributor sent sales plummeting (Dickens held a "council of war" with his partners and decided to "strike in" himself to save the day)?
But Dickens's investment in the book itself was personal: he suffered an intense "neuralgia of the face" throughout the book's composition, and though Slater is deeply cautious about psychological analysis, he suggests that Pip's apparently deluded pursuit of Estella seemed to return the author to the painful memories of a youthful rejection suffered himself. A few years earlier, his decision to become the mesmerizing public reader who re-enacted the murder of Nancy from Oliver Twist to terror-struck audiences of hundreds had also been born, as Slater documents, out of a thoroughly mixed desire to make more money and to commune with his adoring readership. His confidant and eventual biographer, John Forster, thought it a tawdry dimunition: Dickens ignored Forster's scruples.
That need for communion had a perpetual hold over Dickens, who would have made a superlative blogger: he wrote brilliantly under pressure, "dashing off" fictional stories, travel pieces, slice-of-life essays, character studies, and unstoppable critiques of social injustices at a rate that would be hard to believe if it weren't so well documented. But these performances were so fluid and immediate that Dickens spent a considerable amount of energy throughout his career inveighing against those who presumed that writing was anything other than grueling labor. In one angry missive about a hopeful contributor to Household Words:
He has a general idea that literature is the easiest amusement in the whole world. He figures a successful author as a radiant personage whose whole time is devoted to idleness and pastime — who keeps a prolific mind in a sort of a corn-sieve, and lightly shakes a bushel out of it sometimes, in an odd half hour after breakfast.
Even if the tone of familiarity and self-mocking ease he took with his readers suggested otherwise, Dickens argued that an almost monkish program of "patience, study, punctuality, determination, self-denial, training of mind and body, hours of application and seclusion" were required "to produce what [the reader] reads in seconds."
Though he remained adamant in representing himself as a self-exhausting martyr to the page, Dickens seems to have been the life of nearly every party he attended. This had nothing to do with the fact that he was famous — or at least, only partly to do with it. The fact of the matter was that he was a walking, talking entertainment. Carlyle's description suggests much: "Clear blue intelligent eyes, eyebrows that he arches amazingly, large protrusive rather loose mouth — a face of most extreme mobility, which he shuttles about, eyebrows, eyes, mouth and all, in a very singular manner when speaking."
That busily expressive face, so productive of droll stories and anecdotes taken from some slight experience walking over to his hostess' townhouse that very afternoon — it never seems to have flagged, except in the most trusted company, and not, often, even then. Most of the major Victorians are exhausting to contemplate, Dickens even more so — although Slater's descriptions of the novelist's whirlwind exertions are a vicarious delight. In his later career, after finishing a major work, he would unwind by hauling Wilkie Collins or another friend along as he hurled himself up a mountain or undertook another travel challenge. And then, before returning, he'd promptly write a three-part travel essay for his magazine, complete with humorous sketches of the bumbling innkeeper or a searing portrait of human suffering, like a snapshot sketch of the bleak Cornish mining country, with its "solitary works on remote hill-tops, and bare machinery of torturing wheels and cogs and chains, writhing up hill-sides" like demonically mechanized serpents.
Despite the novelist's relentless literary output, as John Forster was surprised to discover as he composed his Life of Dickens in the months following Dickens's death in 1870, his correspondence proves that he wasn't even close to exhausting the material unconsciously gathered every time he set foot out of the door. According to Slater, for example, Forster presumed that Dickens's American Notes comprised the cream of the writer's puckish observations on his 1842 tour of the United States. But the published work contained, it turned out, none of Dickens's mordant observations on his chat with President Tyler, which he portrayed in a letter as a solemn exchange of confused platitudes and uncomfortable silences, with the President seated by his "great spit box."
Another scene Slater unearths, from a letter to the philanthropist Angela Burdett Coutts, shows that it wasn't only Dickens the humorist who created surplus material, but also Dickens the indelible dramatist of human want. Exploring a povery-stricken part of Southwark, and faced in a deserted block by a forlorn child staring from a ramshackle gallery, Dickens was transfixed:
God knows when anybody will go in to the child, but I suppose it's looking over still — with a little wiry head of hair…all sticking up on its head — and an old weazen face –and two bony hands holding on to the rail of the gallery, with little fingers like convulsed skewers.
One isn't sure which to marvel at more — the masterful compression of the writer's touch, or the power of Dickens's perpetual identification with the figure of a suffering child, old and young at once, coming around again with desperate force. The magnanimous energy with which the observer inhabits the scene is, of course, nothing short of Dickensian — a word as rich with pleasures and emotions as any in English literature, and one that is animated with new meanings in this generous biography.
*Since the time this review appeared, substantial evidence has been published calling the Dickens-Dostoyevsky meeting, and the authenticity of the quoted passage, into question. In particular, Eric Naiman's "When Dickens met Dostoevsky," published in the Times Literary Supplement in April 2013, discusses the depth of the hoax. — BILL TIPPER