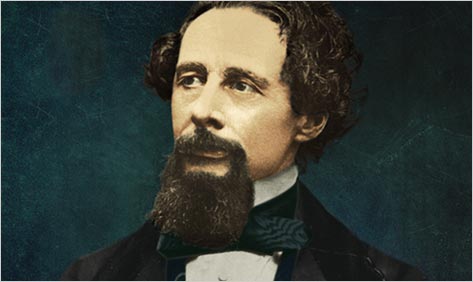 Biographies of Charles Dickens are said to number around ninety, a count that creeps steadily upward with the approach of next year's bicentennial of the great man's birth. Claire Tomalin's splendid, far from superfluous Charles Dickens: A Life is the most recent entry into the field. This fine biographer has already contributed much to the picture we have of the vexed character of the world's most famous novelist in The Invisible Woman: The Story of Nelly Ternan and Charles Dickens. Since that book was published in 1990, the author's cruel treatment of his wife and the question of his relationship with the young actress have replaced the blacking factory as the topic of paramount interest when the subject of his life comes up. But if that sorry business is the pivot around which this biography also turns, it is only because the anger, the yearning, and the ferocious will that fueled the dark half of Dickens's contradictory nature were so shockingly realized in it.

The outline of Dickens's life is well known: a childhood blighted by his parents' improvidence and bizarre indifference; an adulthood of unremitting literary and theatrical enterprise bringing international celebrity; indefatigable philanthropic endeavor; fathering ten children on a submissive wife, then banishing and separating her from those children; his affair; and his death at fifty-eight. Tomalin sets it all before us in expansive detail, exposing what she sees as the central truth of Dickens's life. It is that, for much of it, he felt ensnared in the all-encompassing trap of "having been born with the wrong parents, supplied with the wrong brothers, married to the wrong wife, father of the wrong sons, with the result that he was surrounded by dependents."

One of Tomalin's aims is to show how making money, more and more of it, presented itself to Dickens as the only possible way to break free; and, indeed, his unceasing work — writing, editing, giving readings, and putting on theatrical productions — did bring in vast sums. Nonetheless, every increase in fortune was accompanied by new demands on his pocket: to maintain a style of living in keeping with his growing renown, to fulfill childhood dreams, and to support his many charitable works and ever-proliferating brood ("I begin to count the children incorrectly, they are so many; and to find fresh ones coming down to dinner in a perfect procession, when I thought there were no more"). Most irksome of all were the constant appeals from members of his family to be bailed out. He became furious at what he conceived to be an inherited fecklessness and passivity: "You don't know what it is to look round the table," he wrote to a friend, "and see reflected from every seat at it…some horribly well remembered expression of inadaptability to anything." Dickens's response to this continual affront was finally and brutally to sever ties; thus, at various times, he struck off his father, brother, a couple of sons, and countless other importunate petitioners.

Tomalin's low-key, often wry conversational style sets into relief the driven man, burning and fuming, living, as he said while writing Bleak House, in "a perpetual scald and boil." After a stint of writing, he would call for a cold pail of water into which he would plunge his head. Possessed by almost ungovernable energy and fury, he walked miles at top speed, saying that if he didn't he would "just explode and perish." There is no question, as this book and his own fiction illustrate, that he was exhilarated by fire, by its destructive power in the world and in the soul. In an emblematic and arresting scene, Tomalin shows him on an excursion up Mount Vesuvius, "crawling to the very edge of the crater and looking down into the boiling fires below, rejoining the others with his clothes alight in several places, giddy, singed, scorched and triumphant."

In exploring the matter of Dickens's pitiless rejection of his wife, Tomalin enters into his feelings with an empathy that is one of her great strengths in dealing with badness. She shows him yearning for a different life and prey to a paradoxical longing for both purity and for the young Nelly Ternan. She builds a convincing circumstantial case for Dickens having contracted a venereal disease after he cut himself off from his wife, and for his being treated and cured — after which he consummated his affair with Ternan. She also presents credible evidence for the affair producing a child who died very young. She goes further, on shakier ground, to suggest that, contrary to the official version, Dickens did not collapse in his dining room, on June 8, 1870, but at Nelly's house, his unconscious body smuggled into his own house, where he died the next day.

Tomalin gives much play to the dark galvanic current that coursed through Dickens's life, assuring that we will not — as his daughter Kate hoped we would not — think of him only as "a joyous, jocose gentleman walking about the world with a plum pudding and a bowl of punch," On the other hand, Dickens's happy vitality, comic sensibility, and love of festivity are also very much present throughout the book, especially when he is shown with children and male comrades. There is a wonderful description of George Dolby, friend and theater manager, traveling with Dickens on a reading tour: consuming his specialties, gin punch and the "artful sandwich" (parsley, hard-boiled egg, and anchovy on a buttered French roll); smoking endless cigars; visiting circuses and, as an extra treat, a prison; playing cards and exercising the privilege of entertaining Dickens by standing on his head. Elsewhere we find the Sparkler of Albion, as he liked to call himself, enjoying his monumental fame, loved by readers and audiences, exchanging mutual doffings of caps with Emperor Napoleon III and Prince Albert, and being questioned by Queen Victoria as to why it was impossible to get good servants.

Tomalin shows throughout how Dickens's trials, many illnesses, and duties affected the quality of his writing and how his own experience informed his characters and plots. In fact, she appears to have a peculiar talent for entering the minds of tortured men who were rotten husbands. Her last work, a magnificent biography of Thomas Hardy, showed the centrality of his own humiliating childhood and inner rage. Hardy's fiction is shot through with cruelty, though, in its insistence on the meaninglessness of human lives, it is directed as much at the reader as at the characters. In Dickens's work — written, to be sure, on the higher, more optimistic slope of the nineteenth century — there is cruelty aplenty, but toward his readers he is always generous.

After finishing this penetrating biography, I feel more tangibly than ever Dickens's impulse to disorder a world which to him had been first so callous and then confining. He unmade it and remade it through a near-hallucinatory vision and untamable powers of grotesquerie and comic whimsy, especially in his minor characters and the worlds they live in. His little people are in constant interaction with their clothes or disappear into them or become them entirely; buildings and streets have their own intransigent personalities; food and drink flirt and make merry, crying out to be enjoyed. Dickens dispelled, on the page at least, the implacable order that crushed him as a boy and that continued to beset him with unwanted dependents and obligations. He continues to do the same for us, almost two centuries after his birth and 175 years after giving us The Posthumous Papers of the Pickwick Club, the first passport into his comic empyrean.